Dunlop is making their entry into the esports marketplace with the Dunlop Gaming Muscle Arm Supporter, their first item in a product line for gamers. The arm sleeve is scheduled to release in Japan on October 26 and will cost 4,400 yen (roughly $30).
Dunlop is a company known for making tires and sports equipment and is a new contender in the esports marketplace. With the establishment of the Gaming Muscle brand, they want to become a "second muscle" for gamers by supporting them with their knowledge and engineering.
The Dunlop Gaming Muscle Arm Supporter is a right-arm compression sleeve that claims to improve performance when playing FPS and TPS games. It stretches from a player's upper arm to the palm of their hand and is made of a low-friction material that decreases resistance when moving across a mousepad, which Dunlop says improves mouse maneuverability.
In addition to preventing your skin from rubbing across the mousepad, it also provides a moderate amount of compression to your entire arm to reduce wasteful movements. These are the core features for how it helps improve performance, but it's also made of a sweat absorbent material that's quick to dry which they say is comfortable for long play sessions.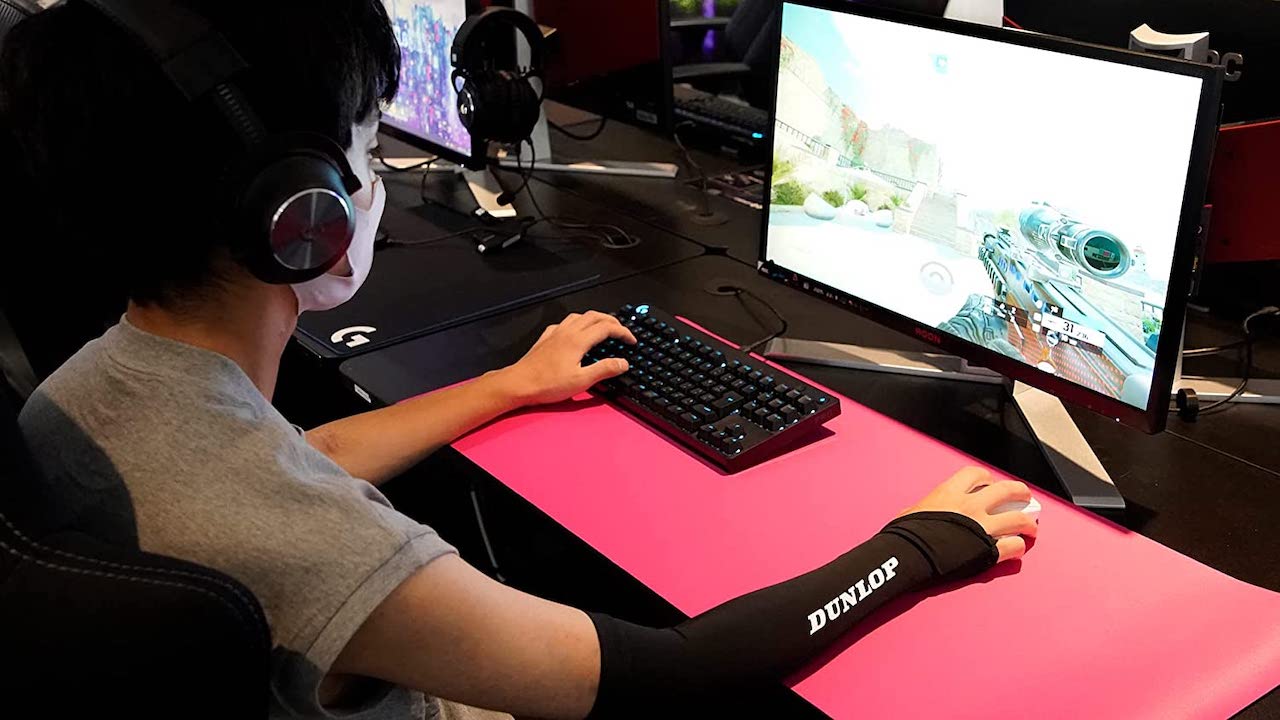 The design of wrapping from players' forearms down to their palms was made by analyzing the movements of esports players and is patent pending. There's also a soft hook that wraps around the pinky to keep the sleeve from slipping without interfering with mouse movement (also patent pending). The upper section is made with nanofibers similar to what golf gloves use to prevent the sleeve from sliding down.
Dunlop's announcement brings up their history of product development and analyzing objects coming in contact with each other like tires and roads or the impact of a golf club on a ball. They say the arm supporter was developed with special attention paid to how the forearm or palm of one's hand contacts a mousepad while playing.
The Dunlop Gaming Muscle Arm Supporter is scheduled to release in Japan on October 26 (JST) via Amazon. It comes in two sizes, S-M for a 23 – 27cm sleeve circumference and M-L for a 27 – 31cm sleeve circumference. The product is only available in black and for right arms. Check out the official website for more details (Japanese).



Written by. Nick Mosier based on the original Japanese article (original article's publication date: 2022-10-03 21:36 JST)