Kirby developer shuts down fanmade card game Chef Kawasaki's Microbikini
Posted On 2022-09-28 21:15
---

The Twitter account for fanmade card game Chef Kawasaki's Microbikini Karuta has announced that the game has been removed from sale on Japanese online marketplace BOOTH. The decision was made due to a request from Kirby series developer HAL Laboratory.
Chef Kawasaki's Microbikini Karuta is a fanmade card game featuring the character Chef Kawasaki from the Kirby series. Chef Kawasaki first appeared in Kirby Super Star, where he served as a mid-boss. The character is considered one of the most popular in the series and has appeared in many installments, including the anime Kirby: Right Back at Ya! The most recent game in which he played a prominent role was Kirby Star Allies, where he appears as a mid-boss and recruitable Friend.
For whatever strange reason, a number of fans began to have fun with the idea of putting Chef Kawasaki in a micro bikini. There are some who believe that the character's standard attire—naked save for an apron—is already rather raunchy, and it's thought that this is what led to the spread of micro bikini memes. And things didn't stop there, as the meme also gave birth to the aforementioned card game, Chef Kawasaki's Microbikini Karuta.
Chef Kawasaki's Microbikini Karuta is based on the Japanese card game known as Karuta. The cards feature Chef Kawasaki wearing a micro bikini and striking a variety of different poses. The game first went on sale a few days ago at a price of 890 yen (about $6) for the physical version and 290 yen (about $2) for the PDF/JPG digital version.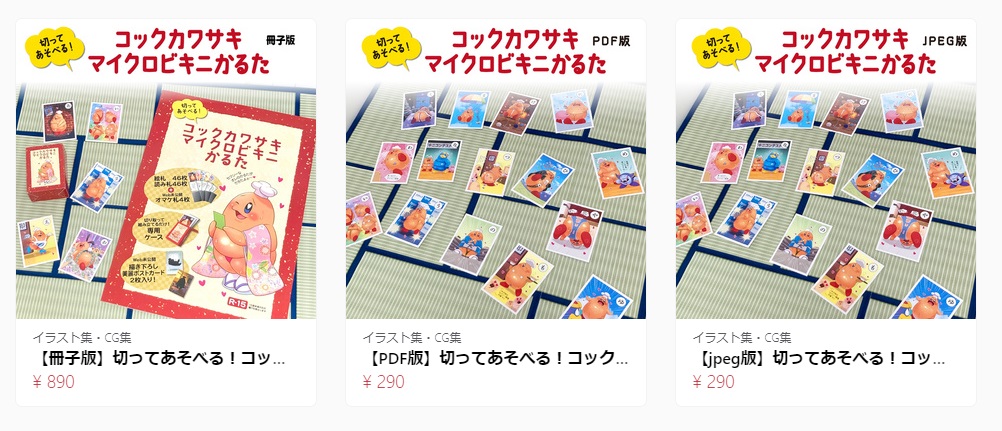 As of September 26, the game seemed to be doing well, with the physical version completely sold out. However, the game was removed from sale only two days later on the 28th, likely due to a warning from HAL Laboratory. Nintendo is responsible for publishing the Kirby series, but in recent years, HAL Laboratory has been actively developing and managing the series license for things like merchandise. This may be why HAL Laboratory contacted the card game's creator. Even setting aside the fact that the game puts Chef Kawasaki in a micro bikini, the act of creating a product based on a Nintendo IP and selling it without permission is illegal to begin with. 
Chef Kawasaki fans hoping to enjoy more of the character's unique charm can get their fix with the Blu-ray boxset of Kirby: Right Back at Ya! thatis due to go on sale this winter in Japan, or they may prefer to admire his 3D model in Kirby Star Allies.



Written by. Marco Farinaccia based on the original Japanese article (original article's publication date: 2022-09-28 17:14 JST)
---
Trending Now
You may also like