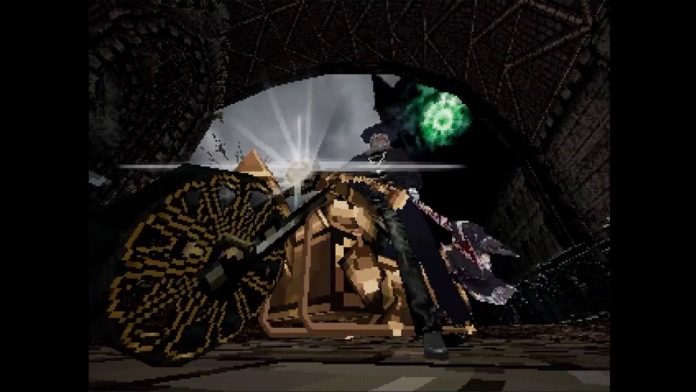 Game developer Lilith Walther has provided a status update on her Bloodborne fangame, Bloodborne Kart. In addition to new gameplay videos, it was also revealed that Father Gascoigne will be a playable character.



Bloodborne Kart is a fan-made racing game based on FromSoftware's action RPG Bloodborne. The game looks to feature characters from Bloodborne competing in fierce races where they ride vehicles such as motorcycles and make use of a variety of Trick weapons, Firearms, and other items.
The newly released footage shows that Father Gascoigne, the popular boss character from Bloodborne, will appear in the game. At the beginning of the video, he bares his teeth and snarls in a recreation of a scene from the original game. Even though Bloodborne Kart uses PlayStation 1 style graphics, Gascoigne's neat row of teeth—including his large canines—have been recreated with surprising detail.
The camera then moves back to show that Father Gascoigne is seated atop a motorcycle. During the race, it shows him transform into his trademark beast form, and he uses course items that appear to be just like his Hunter Axe and Hunter Pistol weapons. On the other hand, he also uses the Hunter Tool "A Call Beyond" which is somewhat out of character. 

Developer of the game, Lilith Walther, previously created an unofficial PlayStation 1 style demake of the original Bloodborne called Bloodborne PSX. Many of the assets in that game are being reused in the creation of Bloodborne Kart.
The peculiar idea of a kart racing game set in the dark, grim world of Bloodborne actually originated as a meme created by fans. While she was developing Bloodborne PSX, Lilith used assets from the game to create a mock-up of the kart racing idea for an April Fool's joke. Things continued to progress from there until it was announced in March that Bloodborne Kart would be turned into a fully playable game (related article).
At the time this article was written, the tweet featuring the new footage has gained over 10,000 retweets. Fans appear very excited about the game, with some practically begging to play it. Bloodborne has continued to enjoy a high level of popularity since it was first released in 2015, and many are still hoping for a sequel. These fans are likely eager for any kind of Bloodborne related content, even if that happens to be a fangame.
Bloodborne Kart is expected to be released for free and will likely be available on PC (itch.io) like Lilith's other games. A release date for the game has yet to be announced.



Written by. Marco Farinaccia based on the original Japanese article (original article's publication date: 2022-08-23 14:26 JST)