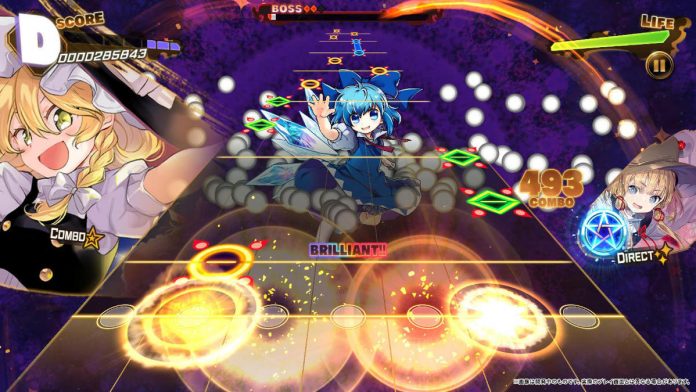 Written by. Marco Farinaccia based on the original Japanese article (original article's publication date: 2022-07-18 21:50 JST)


DeNA has announced that Touhou Danmaku Kagura will end service on October 28 at 8 p.m. (JST). Alongside the announcement, they also released a schedule for the remaining content, which will include a number of new songs, events to commemorate the one-year anniversary, and more.


Touhou Danmaku Kagura is an officially recognized derivative work based on the Touhou Project. Doujin circle AQUASTYLE handled the original planning for the game, which was then developed by xeen and published and operated by DeNA. In the main "Danmaku Kagura" mode, players must tap the notes that fall along seven lanes in rhythm with music that encompasses many original and remixed tracks from the Touhou Project series.
The game launched in Japan in August 2021 and was the first officially recognized Touhou Project rhythm game for smartphones. Over one million users pre-registered for the game, and it reached five million downloads in November 2021.


In the latest information broadcast for the game, it was revealed that while many players have enjoyed Touhou Danmaku Kagura since its release, it continues to underperform in terms of expected sales. A number of promotions and updates were implemented in an attempt to remedy the situation but have ultimately proven unsuccessful.
They considered whether it was possible to continue operating the game under these conditions but doing so would have meant fewer new songs and events, as well as a considerable drop in the overall quality of the game. Rather than maintain a version of Touhou Danmaku Kagura that could not live up to the expectation of fans, the decision was made to instead end service.
Updates for the game will continue to be implemented until service ends. The schedule revealed on Twitter shows a steady flow of new songs and characters that will be added over time along with a one-year anniversary event that begins in August. A special live broadcast called Touhou Danmaku Festival is also planned for the final day of service, October 28.