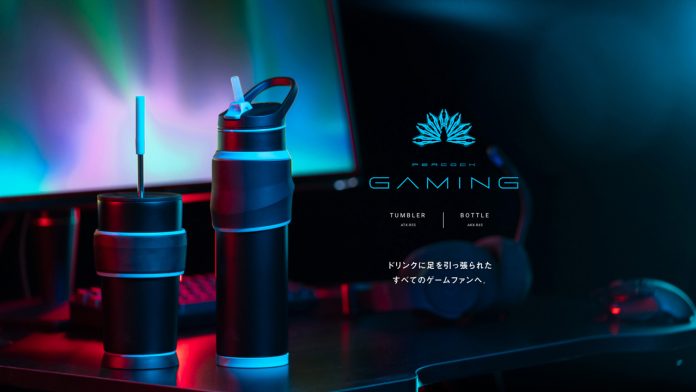 Written by. Ryuki Ishii based on the original Japanese article (original article's publication date: 2022-02-03 11:49 JST)

Japanese vacuum bottle company The Peacock Vacuum Bottle has released its latest products, the Gaming Tumbler (ATX-R55) and the Gaming Bottle (AKX-R65), in Japan. The price is set at 3,850 yen (around $34) for the Gaming Tumbler and 4,400 yen (around $38) for the Gaming Bottle, and they both come in three colors: blue, red, and yellow.
These products were designed to be used by eSports players with an aim to make it easier for them to stay hydrated while gaming and provide a comfortable gaming environment. The Peacock Vacuum Bottle noticed the market for specialized products related to eating and drinking while gaming is still underdeveloped and saw an opportunity to make improvements. The company explains that many gamers have had experienced accidents or felt negative emotions when rehydrating while playing a game, and these new products seek to change that.



The Gaming Tumbler measures 9.1 x 9.0 x 16.4 cm with a diameter of 7.7 cm and has a capacity of 0.55 liters. It has a stable structure and an elastomer-made grip that is easy to hold, even with sweaty hands. It also comes with a straight stainless-steel straw that allows you to rehydrate quickly without looking away from a monitor. A silicon cover can be attached to the leak-proof lid.
The straw was included to avoid the tumbler from hitting a headset microphone and is 10cm in length from the lid. The lid itself is designed to prevent the drink from spilling out when knocked over, so users won't have to worry about getting their devices wet.



The Gaming Bottle measures 7.8 x 9.7 x 27.8 cm with a diameter of 4.8 cm and has a capacity of 0.65 liters. It has a built-in straw that can be easily opened and closed with one hand. Just like the Gaming Tumbler, it's designed with high functionality in mind and "quick charge" as the top priority. Its watertight structure ensures that the drink inside will not spill out even if the bottle is turned upside down when the cap is closed. The grip is ergonomically designed and made of silicone.
The double-layered vacuum insulation structure of the products makes it possible to retain the temperature inside for hours without condensation. Both products feature inner bottles that are resistant to corrosion and rust from salt, and are compatible with sports drinks and oral rehydration solutions. Furthermore, the Gaming Tumbler is also suitable for carbonated drinks.


According to a survey conducted by Peacock, more than 80% of the respondents answered that they would like to purchase a highly functional drink container (tumbler or bottle) that is easy to use while gaming on a PC. Functionality that only a vacuum flask can provide, such as spill resistance and temperature retention, was also considered important among the respondents. These opinions have been incorporated into the creation of new products, and the company went even further by pursuing the ability to rehydrate quickly.
The Gaming Tumbler and Gaming Bottle are available in Japan through the Peacock online shop, Amazon, Rakuten, etc. The official website can be found here.