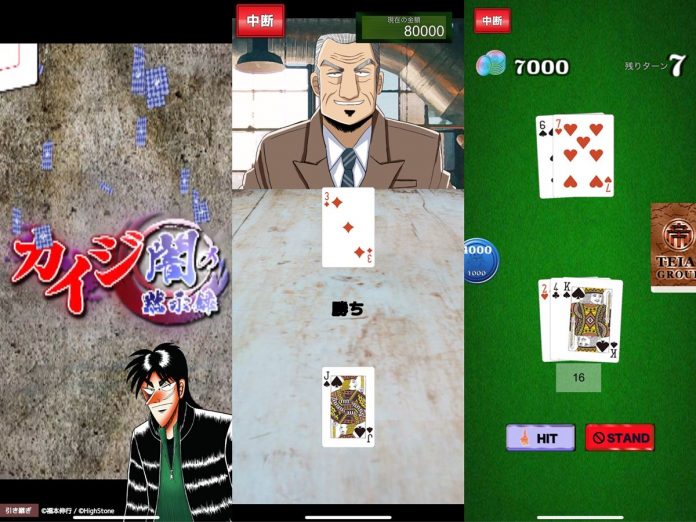 Written by. Ryuki Ishii based on the original Japanese article (original article's publication date: 2022-01-21 14:01 JST)

Kaiji Yami no Mokushiroku, a free-to-play mobile game based on the popular manga series Kaiji, has released in Japan on January 20. The game looks incredibly cheap, though. Players in Japan are questioning how much of it is intentional.
Kaiji is a long-running manga series that started in 1996. It follows the story of Kaiji, a man in deep debt trying to turn his life around by participating in high-stake, life-risking gamble events. The series gained popularity for its original and cruel gambling ideas, depiction of people pushed to the limit, and the iconic onomatopoeia "zawa..zawa…"
The newly released mobile game lets you experience some of the high-stake gambling games operated by the villainous company Teiai. It's basically a collection of mini-games that includes the Restricted Rock, Paper, Scissors-style card game E-Card, Minesweeper with no hints, high and low card game, and Blackjack. Characters from the original series appear in the game to support players.
It was initially scheduled to release in late 2021 but was postponed to apply final polish to the game. Maybe it wasn't polished enough, as players immediately found a game-breaking exploit right after launch. The resolution of some assets is super low, and the UI looks like it's stuck in the 90s, perhaps intentionally to recreate the atmosphere of the flip phone era. The official website's design looks outdated as well, so it's reasonable to think it's a matter of design choice.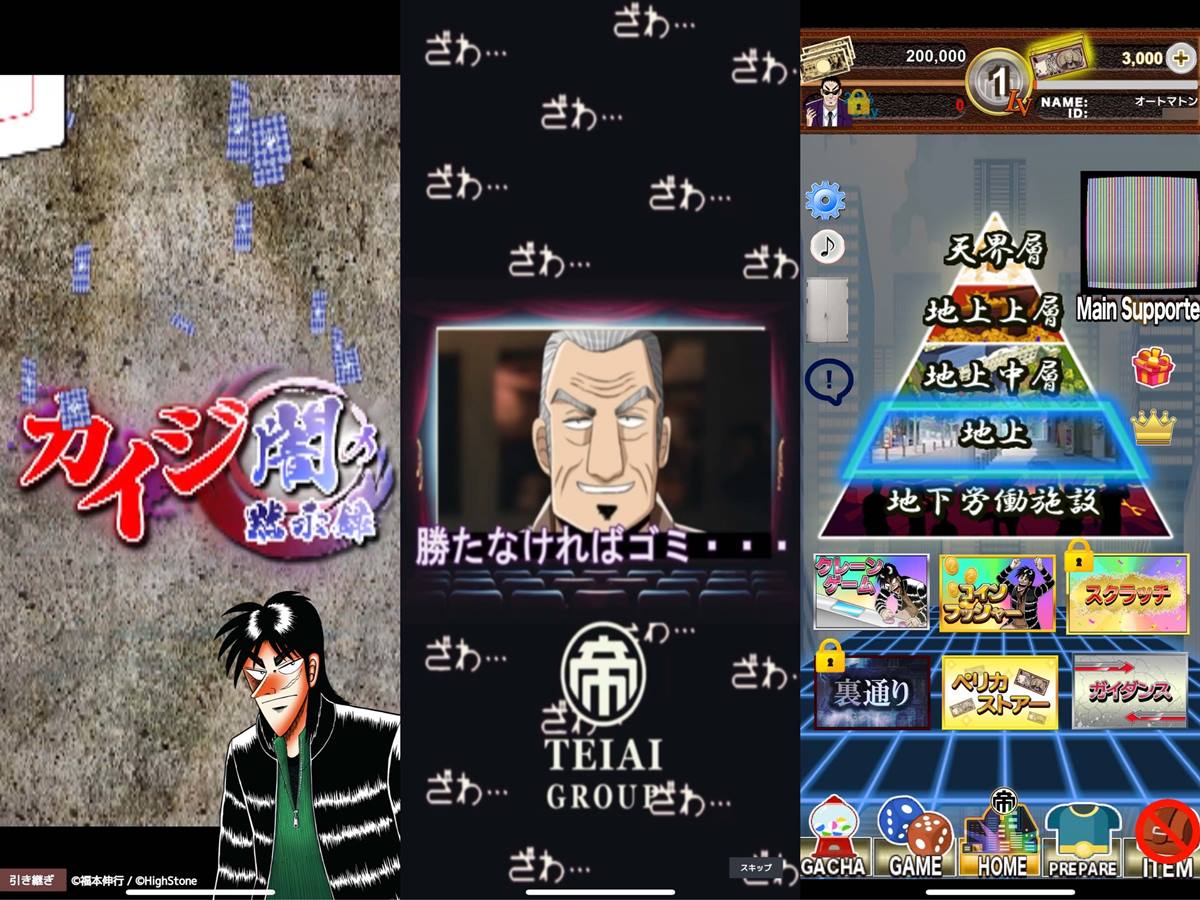 The mini-games are simplified to a point where there's no satisfaction left. The visual and sound effects are minimal. Blackjack seems pretty orthodox, but sometimes you can see both cards in your opponent's hand, which reduces the difficulty a bit. The Ace card is unreliable since sometimes the game counts it as one instead of eleven, even when you want it to be counted as eleven. It's as though bare minimum efforts were put into the game.
Some users are reporting that characters they earned through paid gatcha suddenly disappeared. There are a number of rough spots, including a game-breaking exploit that developers have now acknowledged in the in-game announcement section. It's no wonder players are left scratching their heads.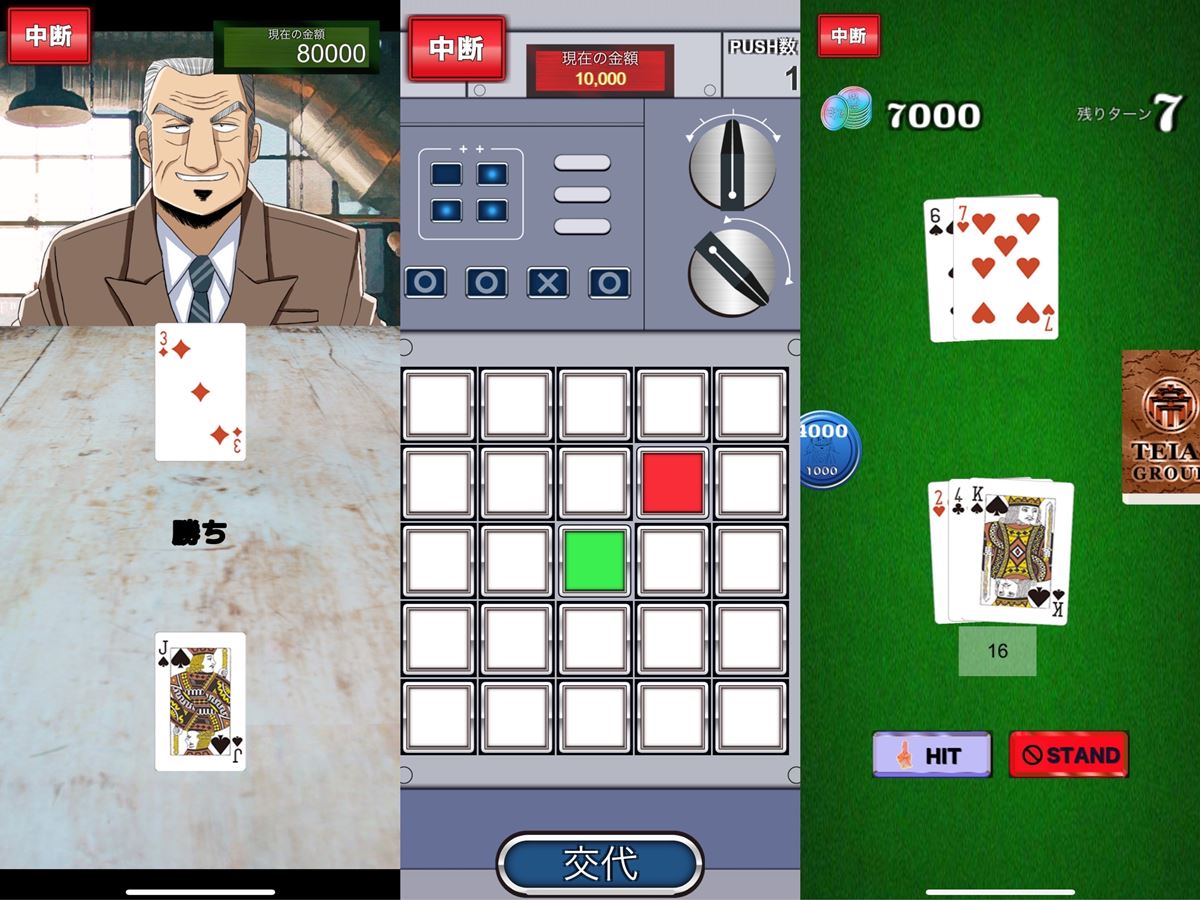 Kaiji Yami no Mokushiroku is being developed and operated by a Japanese company called NOA.TEC. The infamous studio behind Fairy Tail Guild Masters, a mobile game based on the popular manga series Fairy Tail.
That game was also released in a rough shape and received criticism for it. In addition to bugs, players were able to access the test environment within the game and manipulate account data. The studio even mistakenly gave out a ridiculous amount of premium in-game currency to all players right after launch. The situation was so bad that Hiro Mashima, the Manga artist of Fairy Tail, apologized to fans for not supervising the project.
It seems like NOA.TEC has done it again with Kaiji Yami no Mokushiroku, releasing a game in a poor state. The cheap visual presentation and low production value could be intentional, but microtransaction-related bugs are critical. Let's hope the developers will fix the bugs soon.