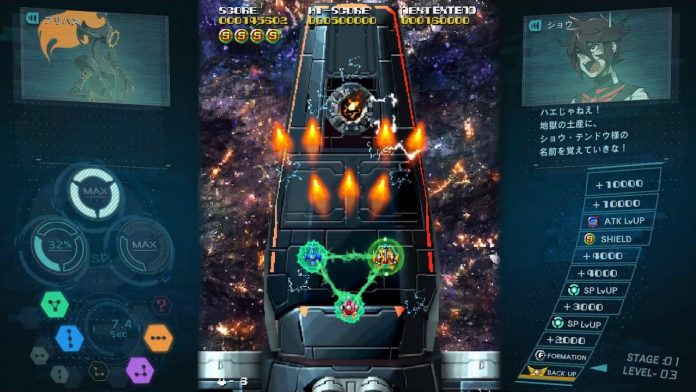 [Update 2022/01/24 9:55 JST]
PlatinumGames has announced the release date for Sol Cresta. It's coming out for the Nintendo Switch, PS4, and PC (Steam) on February 22, with the price is set at $39.99. The game was initially scheduled to launch on December 9, but PlatinumGames decided to delay it in November of last year (related article). Now the new release date has been confirmed. The Dramatic DLC, which will add a fully voiced scenario, is set to release by the end of 2022.
During the Sol Cresta Release Date Forum live stream that took place on January 22, video messages from Yuzo Koshiro, who is in charge of the soundtrack, and Yoko Taro, who made a special appearance, were shown. The broadcast also showed off key visuals made by lead UI designer Rui Onishi and a gameplay showcase from director Takanori Sato. Hideki Kamiya briefly showed Sol Cresta running in vertical mode on a Nintendo Switch towards the end of the broadcast.


[Original Text 2022/01/20 15:59 JST]
PlatinumGames has announced that the Sol Cresta Release Date Forum live stream will take place on January 22 at 19:00 PST (January 23 at 12:00 JST). The broadcast will run for approximately one hour. The event was initially planned to be held on January 7, but the company decided to postpone it because of technical issues with their streaming equipment.
The release date for their vertical shooter Sol Cresta will be revealed during the live stream, along with a viewer giveaway. Chief game designer and creative director Hideki Kamiya, producer Takahito Washisaka, director Takanori Sato, and lead UI designer Rui Onishi are set to appear during the show.
Sol Cresta is a sequel to Moon Cresta and Terra Cresta, which were released in the 1980s. With the cooperation of Hamster Corporation, the rights holders of the previous two titles, Sol Cresta is being developed by PlatinumGames. Players will pilot the Yamato, Sol Cresta's cutting-edge docking fighter, on a mission to take back the Sun from the evil Mega Zohar army, and thwart their plans to rule the galaxy.
Sol Cresta is planned to launch on PC (Steam), Nintendo Switch, and PlayStation 4. The release date will be announced during the Sol Cresta Release Date Forum live stream on January 22 PST.
In related news, PlatinumGames recently appointed Atsushi Inaba as the company's new CEO and president (related article). According to the tweet above and a report by IGN, Hideki Kamiya is now a vice president of the company.