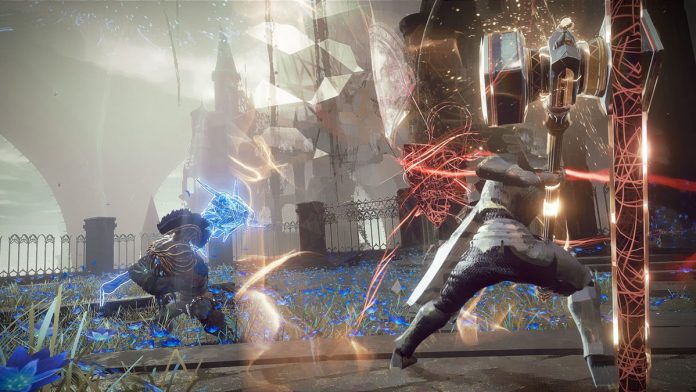 Written by. Ryuki Ishii based on the original Japanese article (original article's publication date: 2022-01-06 19:18 JST)

Square Enix did a Q&A during their Babylon's Fall official livestream that took place on January 5 (JST) to answer some questions from the viewers. Extensive PS5 gameplay footage can be seen as well. The developers also mentioned that the game has gone gold, and there will be a day one patch when it launches.
Babylon's Fall is a co-op multiplayer action RPG being produced by Square Enix and developed by PlatinumGames. It is set to launch on March 3 for PC, PS4, and PS5. You will take on the role of a Sentinel, a warrior equipped with a special armor called the Gideon Coffin, and aims to conquer the Tower of Babel with up to 3 other players or by yourself. You can customize your loadout to wield up to 4 weapons at any time.
Here are the things we learned from the livestream:

There won't be a dedicated story mode. Players will choose from a multitude of quests, some related to the storyline, some focused on earning loots, and such. Meaning, the game won't progress linearly.
There's a limit to the number of times you can be revived. If your party gets wiped with no revives left, you'll fail the quest. You can keep the loots you've obtained, though.
Loots with different rarities will drop in the dungeon, and you can identify them once the dungeon is cleared.
Power level is assigned to each piece of equipment, along with special attributes and stat bonuses. Some bosses are weak against certain elemental effects, so choose your equipment wisely.
You can't change your equipment once you're in battle.
Five weapon categories will be available at launch: Sword, Bow, Rod, Hammer, and Shield. More weapon types will be added post-launch as part of free content updates.
There will be paid cosmetic items.
The Costume slot will allow players to overwrite the appearance of your equipment without changing the gear stats.
Players can use emotes to communicate with other players.
You can send "likes" to your teammates on the quest result screen.
It's possible to play the game solo.
Cross-play is supported, but cross-progression is not.
The game automatically adjusts the enemies' HP according to the number of players. The same adjustments will be made if someone disconnects.
Although the game doesn't have a concept of jobs or roles, there are some abilities available for those who want to play a certain role, to some extent.


Babylon's Fall is set to release on March 3 for PC (Steam), PS4, and PS5. Square Enix also mentioned during the livestream that they intend to run another beta test before the launch.