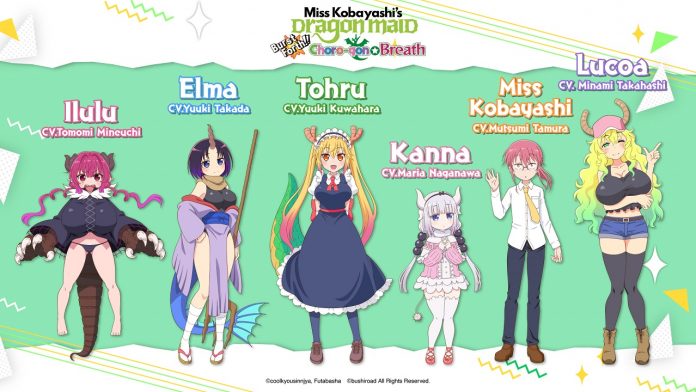 Publication date of the original Japanese article: 2021-11-25 10:54 (JST)
Translated by. Ryuki Ishii


[UPDATE 2021/12/02 15:05 JST]
Bushiroad released a new trailer for Miss Kobayashi's Dragon Maid: Burst Forth!! Choro-gon☆Breath.

[Original Text]
Bushiroad updated the official website for Miss Kobayashi's Dragon Maid: Burst Forth!! Choro-gon☆Breath (小林さんちのメイドラゴン 炸裂!!ちょろゴン☆ブレス) and announced the game's release date. It will come out on March 24, 2022, for PS4 and Nintendo Switch in Japan and cost 4,680 yen (approx. $40) for the standard edition. The limited physical edition will be priced at 5,680 yen (approx. $50).

Miss Kobayashi's Dragon Maid: Burst Forth!! Choro-gon☆Breath is a videogame adaptation of the popular Japanese manga/anime series Miss Kobayashi's Dragon Maid. The story centers around an ordinary overworked system engineer named Kobayashi and a maid dragon named Tohru, who hates humans but loves Kobayashi-san. It's a heartwarming slice of life comedy in which characters of different species and values come to accept each other.
The videogame adaptation will be a vertical scrolling shooter in which you "Fly, shoot, and punch" through enemies. In the game, Kobayashi receives an e-mail from her otaku colleague Takiya saying that he has something to show everyone, so she heads over to Takiya's house with Tohru, Kanna, Elma, and Lucoa, the familiar faces from the series. However, what they find in Takiya's room is a cursed computer, and Kobayashi and company get trapped inside. Now they must clear the games installed on the computer in order to escape.
Players can control Tohru, Kanna, and Elma to maneuver inside the game. There are three types of attacks: a ranged beam attack, a melee attack, and a special attack where you transform into a dragon to perform a powerful Choro-gon☆Breath.

There's also a system that allows you to activate the Gekirin Spark skill by meeting a certain condition. It increases your attack power for a certain amount of time. The visuals for each character changes while the skill is activated, such as their clothes getting torn.
There are over 30 newly drawn illustrations included in the game, and each illustration can be completed by collecting illustration pieces that you obtain by defeating enemies. The illustrations are drawn by illustrators such as the original manga artist Coolkyousinnjya. There are five different endings, and you get a different one based on your clear score.

The game is being developed by KAMINARI GAMES. The company was established in 2018 by former staff of the parent company MOSS. In recent years, MOSS has worked on shoot 'em up games such as Raiden V: Director's Cut and Caladrius Blaze. Since the game is being made by a studio with a track record of creating shooting games, I can't wait to see how the gameplay will turn out.