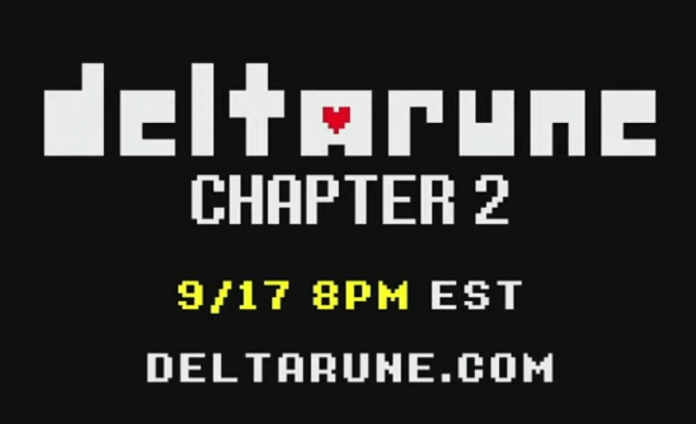 Publication date of the original Japanese article: 2021-09-16 12:23 (JST)
Translated by. Ryuki Ishii

Indie developer Toby Fox announced that DELTARUNE Chapter 2 will release on September 17 at 8pm ET. This announcement was made during the UNDERTALE 6th anniversary celebration live stream held by Toby Fox and Fangamer. A small portion of Chapter 2 was shown towards the end of the live stream.
* Chapter 2 gameplay starts at 3:57:38~
Information regarding Chapter 2 is scarce at the moment, but according to the FAQ listed on the official website, you can carry over your save file from Chapter 1 to Chapter 2. "Completion data is generated when you see the credits of Chapter 1. (Go to sleep in your bed at the end of the game.)" The FAQ also states, "You can play Chapter 2 without save data from Chapter 1. As long as you generally remember what happened story-wise, you'll be fine."
DELTARUNE is a new RPG being developed by Toby Fox, the creator of UNDERTALE. Chapter 1 of the game was first released back in October 2018, and it is currently available for free on PC, PS4, and Nintendo Switch. Many aspects of UNDERTALE and DELTARUNE are similar, but the latter introduces new mechanics such as the party system. Familiar faces from UNDERTALE will appear, but they are different characters who have experienced a different life, as DELTARUNE takes place in a different world.
In Chapter 1, the human protagonist Kris goes to school in a world where monsters reside, but as the story progresses, he wanders into an unknown world with the "mean girl" Susie. Judging from the gameplay shown during the aforementioned live stream, Chapter 2 seems to pick up right after Chapter 1, meaning, the day after Kris and Susie returned to their world. Kris and Susie are now going back to the supply closet at school, where they were sent to the unknown world.
DELTARUNE Chapter 2 is set to release on September 17 at 8pm ET. It will be available for PC (Windows/Mac).