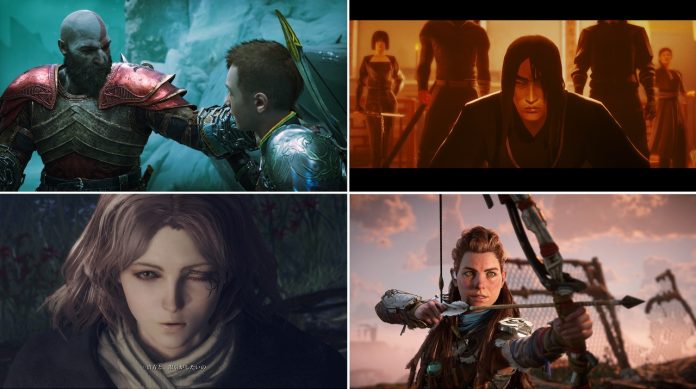 As 2022 draws to a close, the annual tradition of picking a GOTY is upon us. While there were a lot of games getting delayed this year, when looking back on the big releases like Elden Ring, God of War Ragnarök, Horizon Forbidden West, Splatoon 3, Bayonetta 3 and more, it was a pretty stacked year for me personally.
A lot of great indie games came out this year as well, like As Dusk Falls, Citizen Sleeper, Cult of the Lamb, Immortality, Neon White, Rollerdrome, Scorn, SIFU, SIGNALIS, Stray, Tunic, and V Rising. And in addition to those, there was the boom of Vampire Survivors and The Backrooms followers, Tarkov-likes such as The Cycle: Frontier and Marauders, and the comeback of the Overwatch franchise.
I couldn't be happier about having all these games to choose from. But putting aside the obvious of the sheer number of games that come out in a year, the number of live service games that will theoretically be operating for years to come is also steadily increasing. As a gamer and editor in games media, it's an enormous amount of content to keep up with.
I aim to spend around 1,500 hours gaming over the course of a year, but that isn't enough to cover all the hit releases. That anxious feeling that comes with not being able to keep up only increases by the year. Others in the industry probably feel the same way. Only so many people will have the money and time to comprehensively play the year's games from AAA to indies.
This led me to wonder if there was even any point to selecting or voting for a GOTY, because ultimately, each person can only select from the games they've played. The Game Awards 2022 nominees just got announced, and although it's accepting user votes, I can't help but wonder how many of the potential voters actually played all of the nominated titles. Choosing a GOTY feels more and more unattainable as the medium diversifies.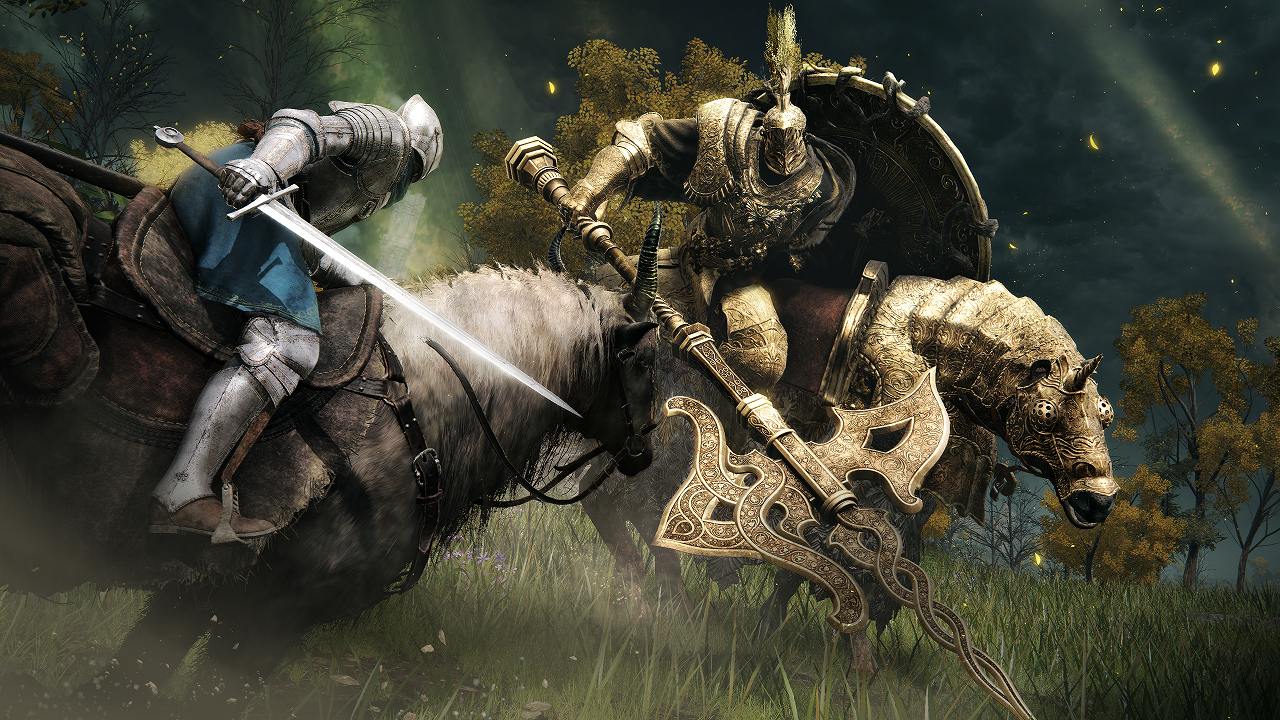 Because there's a limit to how much a single person can game, our editors on the Japanese version of the site generally divide up who will be playing and covering which games. But in doing this, whether the GOTY for our website is selected by team member's votes or by discussion, only the small subset of games most of the team played will be viable candidates.
In recent years, the Japanese version of AUTOMATON has been using a vote among editors and writers to decide the GOTY, separate from each of their "personal favorite games." But I have doubts over whether this is the optimal way. In an extreme example, a writer may have only played one of the five options nominated for the year meaning that's the only game they can choose. A game getting a GOTY vote in that manner doesn't really feel right. It becomes a matter where the game that the most people played wins.
Of course, it's the same with other media like movies and music where one person can't hope to keep up with everything. But compared to movies or music, one game takes up much more time to experience. This leaves a big gap in the range that a single person can cover and means there's less overlap between what multiple people have covered. On top of that, there's also the permeation of live service games which also need to be taken into consideration.
Even the definition of Game of the Year varies from person to person. Is it simply the most entertaining game? Is it the game that left the biggest impact, made the biggest innovation, had the highest production value or was the most topical?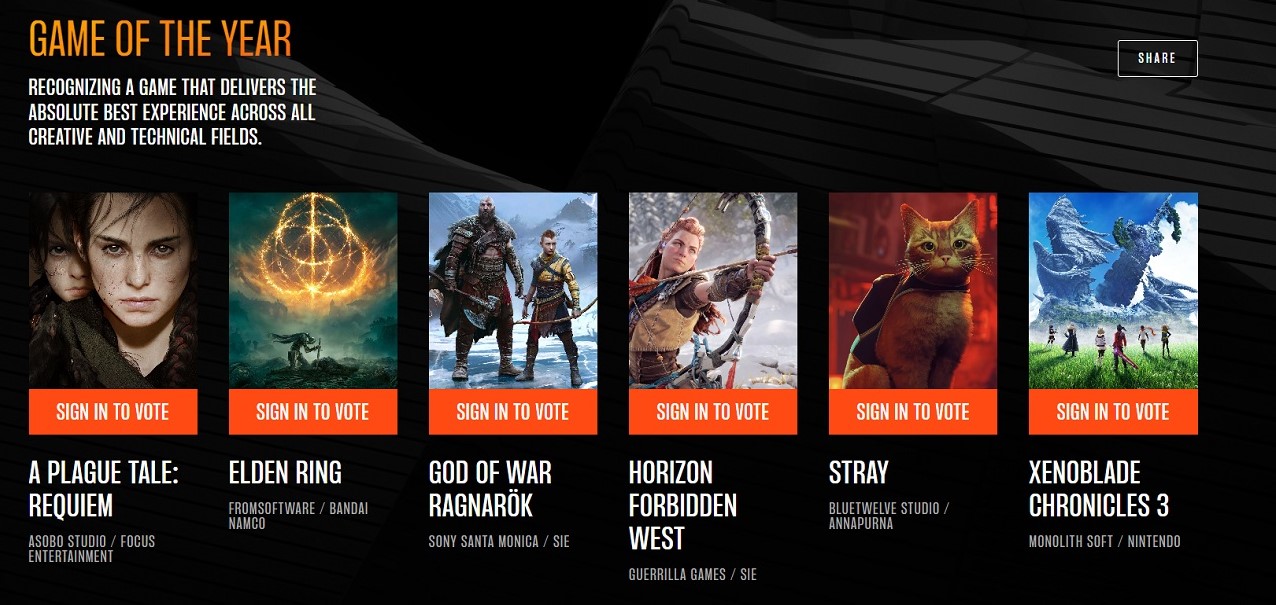 At any rate, whether it's a large website or industry group, the GOTY selection process has its limitations which can't be ignored. Selecting the best game for a specific genre based on votes from gamers well versed in that genre would preserve accuracy to a certain extent but selecting one GOTY across all genres is a whole different ball game.
I suspect there aren't many people who can comprehensively play enough games across all genres to confidently pick a GOTY. With that being the case, maybe it's best to limit the scope of these awards.






Translated by. Nick Mosier based on the original Japanese text
The Game Awards 2022のノミネート作品が発表されたことを受け、ゲーム・オブ・ザ・イヤー(GOTY)について語っていきます。毎年の恒例行事として各団体・サイトがアワードを開催・発表していますが、1年を代表する作品を、自信をもって決められるほど網羅的にゲームを遊んでいる人って、はたしてどれほどいるのだろうか、という話です。
まずは個人的な話から。2022年はゲームの延期発表が相次ぎましたが、いざリリースされた大型タイトルを振り返ってみると、『Elden Ring』『God of War Ragnarök』『Horizon Forbidden West』『Splatoon 3』『Bayonetta 3』など、個人的には充実した一年となっています。
比較的小規模な作品群としては、『As Dusk Falls』『Citizen Sleeper』『Cult of the Lamb』『Immortality』『Neon White』『Rollerdrome』『Scorn』『SIFU』『SIGNALIS』『Stray』『TUNIC』『V Rising』など数多くの良作が生まれた年でもあります。
そのほか、『Vampire Survivors』およびそのフォロワー、「The Backrooms」にインスパイアされたゲーム群、『The Cycle: Frontier』や『Marauders』といったTarkovライクなゲーム。『オーバーウォッチ2』の登場による同シリーズ人気の再加熱など、ソフトのラインナップとしては活気づいています。
このように選択肢が豊富にあることは、ゲーマーとしては嬉しいかぎり。しかし1年のうちに発売されるゲームの数はもちろんのこと、長期運営を想定したライブサービス型ゲームの数も、年々増えてきています。
ゲーマーとして、ゲームメディアの編集者として把握しておくべきコンテンツは膨大。筆者は年間1500時間を目安にゲームを遊ぶようにしていますが、話題作を網羅しきれません(年間1500時間というのは、アニメ・映画・小説といった他分野のエンタメも摂取しつつ費やせる、自分なりの理論値です)。「コンテンツの摂取が全然追いつかない」という内心的な焦りは、年々増してきています。その年に出たゲームを網羅的に遊ぶだけの経済的・時間的余裕のある人は、かなり限られているのではないでしょうか。
そこで浮かび始めたのが、「ここまでゲームの多様化・細分化が進んだ状況で、ゲーム・オブ・ザ・イヤーを決めたり、投票したりすることに意味はあるのだろうか」という疑問。結局のところ、各人が遊んだことのある、限られたゲームの範囲内でしか、GOTYを選べないからです。
つい最近発表されたThe Game Awards 2022のGOTYノミネート作品についても、ユーザー投票を受け付けているとはいえ、全作を遊んだことがあるゲーマーは果たしてどれくらいの割合いるのでしょうか。そもそもノミネート作のひとつである『A Plague Tale: Requiem』は、諸事情により日本語未対応ですし。
ひとりで遊べるゲームの量には限りがあるため、私が所属しているサイトでは編集者ごとに担当する記事/ゲーム(=遊んでおくゲーム)をある程度分担しています。そうなってくると、投票で選ぶにせよ、議論を通じて選ぶにせよ、「グループ内の大多数が遊んだことがあり、大多数が好意的に捉えた、ごく一部のゲーム」のなかでしか、GOTYを選べません。
同サイトでは近年、各ライターの個人的ベスト作品とは別に、編集部とライターによる投票によって、サイトとしてのGOTYを決めています。ですが、これが最適な選び方かどうかは疑問。極端な話、ノミネート作が5つあるとして、そのうち1作しか遊んだことのない人がいれば、その人は唯一遊んだことのある1作を、消去法的に選ぶことになるからです。そのようにタイトルが選出されていったとして、しっくりくるでしょうか。単純に投票権者のうち、より多くの人が遊んだゲームが正義、ということになりかねません。
もちろん、映画や音楽といったほかの媒体においても、1人の人間があらゆる作品を網羅することはできないと思われます。ですがゲームは、映画や音楽と比べて、1作品あたりにかかる時間がはるかに長い。ゆえに1人あたりがカバーできる範囲には大きな差があります。各人がカバーした範囲のうち、重なりあう部分は小さくなります。そのうえ、作品数、ライブサービス型タイトルの増加まで考慮しなければなりません。
そんなわけで、団体やサイトとしてのGOTYを選ぶ行為は、無謀なことであるように感じています。なにも今に始まった話ではないのですが、年々その思いが強まっているという。
そもそもゲーム・オブ・ザ・イヤーの定義についても、人によってブレがあるでしょう。シンプルに一番面白いゲームなのか、あるいは、その年を代表するようなインパクト、イノベーション、もしくは話題性を残したゲームなのか。こうした状況を踏まえると、あくまで各人の「個人的ベスト」として作品を選ぶにとどめる方が、真っ当なのかもしれません。
いずれにしても、大手サイトにせよ業界団体にせよ、GOTYを選ぶ行為には限界があるという疑念はぬぐえません。特定のジャンルのなかからベスト作を選ぶ分には、そのジャンルに精通した人たちが投票者となることで、ある程度の精度は保てるでしょう。ですが、ジャンル問わずのGOTYとなると話は別。
おそらく、自信をもってGOTY作品を選べるほど、ジャンルを問わずにゲームを網羅的に遊んでいる人は、ほとんどいないのではないでしょうか。そうであれば潔く、1人の人間が網羅できる範囲へとアワードの定義を狭めていく方が、納得のいく結果を得られるのではないかと、うっすら思ってしまうわけです。
もちろん、GOTYを含む各種アワードは、「今年リリースされためぼしいタイトルはどれなのか」というユーザー向けガイドとしての機能や、開発者たちの功績をたたえる場としての機能を有しています。意義あるおこないだとは理解しつつも、葛藤を抱えているわけです。
……そうはいいつつ、なんだかんだ各アワードの発表は毎年楽しみに見ています。今年は『Elden Ring』と『God of War Ragnarök』の一騎討ちになるところが多そう。