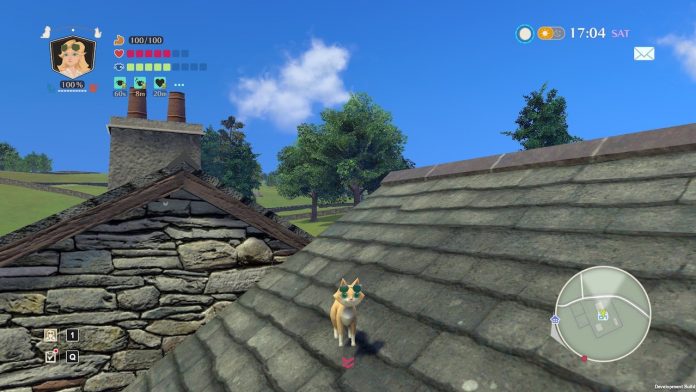 Publication date of the original Japanese article: 2021-10-15 16:35 (JST)
Translated by. Ryuki Ishii

SWERY's new adventure game The Good Life is now available for PC (via Steam/Microsoft Store), Nintendo Switch, PlayStation 4, and Xbox One. The price is set at $29.99 on Steam, and $39.99 on other platforms. The game is also available with Xbox Game Pass (PC/Xbox).
This is the latest work from Japanese developer White Owls. The studio is led by Hidetaka "SWERY" Suehiro, the creator of Deadly Premonition series, D4: Dark Dreams Don't Die, and The Missing: J.J. Macfield and the Island of Memories.
* Disclosure: The game's publisher PLAYISM is part of Active Gaming Media, which is also the owner of this website.

The Good Life is a "debt-repayment RPG" set in a fictional town in England. Naomi Hayward, a journalist from New York "drowning in debt," is asked by The Morning Bell newspaper to uncover the mystery behind the rural town of Rainy Woods, also known as the "happiest town in the world." Rainy Woods is so desolate that Naomi considers the place "hell on earth," but decides to stay there anyway, so she can repay her debt.
You'll explore the open world as Naomi while trying to earn some money. She can utilize her skill as a photographer and earn rewards by taking photos for The Morning Bell or the town's residents. In-game social photo app called Flamingo, is also a source of income. Upload "Emoke" pictures and make them go viral. Naomi can receive money in accordance with the reactions she gets. There are other side jobs available as well.
You can spend your money not only to pay off debts, but also to improve your daily life in this rural town. Drinking in the pub with other residents, furnishing your house, buying new clothes, among other things.




Rainy Woods is full of quirky residents who seem to be hiding some secrets. Naomi witnesses a strange phenomenon at night, where the town folks transform into cats and dogs. Eventually, Naomi herself becomes part of this phenomenon. Turn into a cat to reach high places or become a dog to make use of its acute sense of smell. Switch between each form to uncover the murder mystery and Rainy Woods' secrets.
The Good Life is available now for PC (via Steam/Microsoft Store), Nintendo Switch, PS4, and Xbox One. There's a demo version available on Steam/Xbox One, so those who are interested can try it out first.

* SWERY tweeted out saying that, seeing the game running on his own console, and seeing all the backers' names in the credit, moved him to tears. "Thank you for your patience. I am grateful for your support."