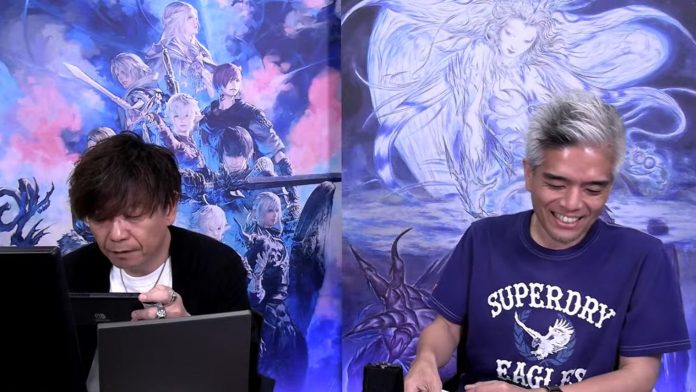 Square Enix held the Letter from the Producer LIVE Part LXXVII broadcast on May 12 to announce new information about patch 6.4 of Final Fantasy XIV (hereinafter referred to as FFXIV). During the broadcast, it was announced that patch 6.4 will be released on May 23, and the patch's new content was detailed via actual gameplay.
However, this livestream ended up causing the words 吉田ゼルダ (Yoshida Zelda) to start trending on Twitter in Japan thanks to FFXIV producer and director Naoki Yoshida making an appearance while playing The Legend of Zelda: Tears of the Kingdom on his Nintendo Switch. This happened during a test stream meant for audio and video adjustments before the main broadcast.

The video and audio adjustment during the test stream was being done by FFXIV global community producer Toshio Murouchi. However, Yoshida, who would normally be sitting at Murouchi's side, was nowhere to be seen. That in itself was not particularly strange, as they were still only testing the stream at that point.
Once preparations were almost done, Murouchi turned toward Yoshida—still off-screen—and said, "Yoshida, don't you think it's about time you joined me?" This was met with only a rather vague "Yeah…" from Yoshida. Viewers likely assumed that Yoshida may have been in the middle of some kind of task—he is, after all, working on a major patch for FFXIV in addition to serving as producer on Final Fantasy XVI, which itself is only just over a month away from release. But when he finally appeared on camera, Yoshida was holding a Nintendo Switch. With a serious expression on his face, he continued to play and, without taking his eyes off the screen, started the mic test by saying, "Testing, testing."
Again, Murouchi calmly asked, "I know that today is the day for saving the world, but don't you think it's about time?" but Yoshida just turned his head towards Murouchi and gave a contrived "huh?" When Murouchi amusedly pointed out that the golden-colored Switch in Yoshida's hands was the Tears of the Kingdom special edition model, Yoshida proudly replied, "Isn't it great?"
Viewers were quite taken with this amicable little exchange, and it caused "Yoshida Zelda" to trend on Twitter in Japan for a time. The fact that Yoshida, a director and executive officer at Square Enix, was so engrossed in the latest depiction of Hyrule seemed to draw a lot of attention from the gaming community. Yoshida mentioned that when playing Tears of the Kingdom, there are many things that he is curious about from a developer's perspective, so he hasn't made much progress through the game. Nintendo's long-awaited new Zelda title seems to have impressed Yoshida, both as a gamer and as a developer.



Patch 6.4 for FFXIV is scheduled to be released on May 23. For those hoping to complete The Legend of Zelda: Tears of the Kingdom and get as much enjoyment out of it as they can before the patch arrives, efficient management of their free time will be very important. We hope that players who will be traveling back and forth between Eorzea and Hyrule will be able to fully enjoy both worlds.




© SQUARE ENIX CO., LTD. All Rights Reserved.



Written by. Marco Farinaccia based on the original Japanese article (original article's publication date: 2023-05-13 09:06 JST)