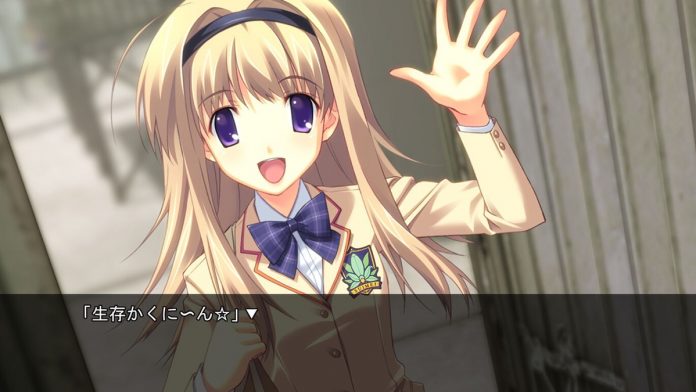 [UPDATE 2022/10/07 11:48 JST]
Spike Chunsoft has announced that the Steam version of CHAOS;HEAD NOAH will be releasing as originally planned on October 7, 2022, despite an announcement that it was canceled only a few days ago. The announcement included the following statement from Valve, operator of the Steam platform:
"Valve's content review team, the group that made the original decision, has re-examined CHAOS;HEAD NOAH and decided to reverse course and allow the game to ship on Steam, as is. We've also examined the process that led to the previous decision about CHAOS;HEAD NOAH, and made some changes to avoid situations like this in the future."


[Original Text 2022/10/04 12:07 JST]
Spike Chunsoft recently announced to their domestic and international fanbases via two notices that CHAOS;HEAD NOAH will not be releasing on Steam.
The game was scheduled to come to Steam on October 7, meaning its cancellation came just a week before its release. The reason given was Steam's "guideline-required changes to the game's content." This has caused fans to speak out against Valve and how they apply their content guidelines.
CHAOS;HEAD NOAH is a visual novel that was developed by 5pb. (now known as Mages). CHAOS;HEAD originally released back in 2008, with CHAOS;HEAD NOAH coming to the Xbox 360 in 2009 with additional content. The game has since been ported to numerous platforms and recently received a Nintendo Switch release in Japan in February of this year. With the Steam version now canceled, the upcoming international Nintendo Switch release will be the first time the game has had English language support.
The Nintendo Switch version is set to release on October 7 as originally planned. As for why the Steam version was canceled, Spike Chunsoft cites Steam's content guidelines and says the required changes needed to bring the game to Steam wouldn't allow the game to be released up to their standards.
In the game, players take on the role of Takumi Nishijou, a high school boy who encounters a series of grotesque murders. It also features plenty of bishoujo characters in contrast to its brutal murder scenes. For that reason, the Xbox 360 and Nintendo Switch versions of the game have received a CERO:Z rating (18 and older) in Japan. Releases on other platforms received some changes compared to these versions.
While it's unclear what parts of the game didn't comply with Steam's guidelines, some think it's due to having children (high school students) tangled up in the game's gruesome depictions of murder.
With CHAOS;HEAD NOAH being canceled on Steam, Science Adventure series fans have started an online petition on Change.org. The petition is addressed to Valve, the operator of Steam, and seeks to "reverse Valve's ban" of the game on its platform so that the game can be released as is.
The campaign insists that Valve's treatment of anime-style visual novels is inconsistent when it comes to applying their guidelines. It also states that visual novels are treated unfairly as other games are able to release with the same kind of depictions. In addition, the game was able to receive a rating in North America and Europe and will be releasing on both the eShop and at retailers, making Valve the odd one out.
Along with the online petition are those calling on fans to contact Valve president Gabe Newell directly. Newell's email address is public, and he is known to sometimes reply to fans.
CHAOS;CHILD, the successor to CHAOS;HEAD NOAH, was released on Steam in 2019 and features similar content. Despite this, it looks like a Steam release of CHAOS;HEAD NOAH wasn't meant to be. Maybe there was a particular issue that only applies to CHAOS;HEAD NOAH, but it's understandable why fans would think Valve's standards are inconsistent. As of this writing, the online petition has received over 4,000 signatures, but will it lead to any sort of change at Valve?
Spike Chunsoft has stated that they are looking into other platforms to release the PC version of CHAOS;HEAD NOAH and will make another announcement when the details are decided.



Written by. Nick Mosier based on the original Japanese article (original article's publication date: 2022-10-03 16:45 JST)