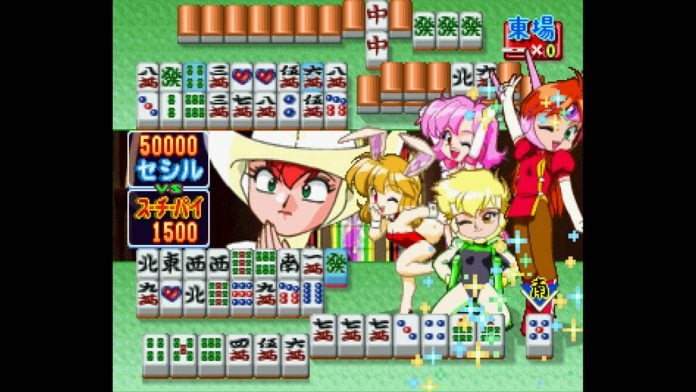 Written by. Marco Farinaccia based on the original Japanese article (original article's publication date: 2022-07-25 16:17 JST)


City Connection has announced mahjong game collection Idol Janshi Suchie-Pai Saturn Tribute for Japan. The game will be available on the Nintendo Switch and is set to release on December 8 (JST). The standard physical edition of the game will cost 6,930 yen (around $50), while a special edition will be available for 15,950 yen (around $117) and a super deluxe edition for 29,700 yen (around $218).
There is no digital version of the collection, but the four included titles will be available to purchase individually on the eShop. Each title will be priced at 1,980 yen (around $15) with the exception of Idol Janshi Suchie-Pai Mecha Genteiban Saturn Tribute which will cost 2,980 yen (around $22).  


Idol Janshi Suchie-Pai Saturn Tribute is a collection of four games in the Idol Janshi Suchie-Pai series that were released for the Sega Saturn. It's a series where you play mahjong against female characters and use underhanded tactics. All scenes within the games will comply with current ratings standards. The four games included in the collection are:
Idol Janshi Suchie-Pai Special + Remix Saturn Tribute
Idol Janshi Suchie-Pai II Saturn Tribute
Suchie-Pai Adventure Doki Doki Nightmare Saturn Tribute
Idol Janshi Suchie-Pai Mecha Genteiban Saturn Tribute




The special and super deluxe editions of the collection will also include Idol Janshi Suchie-Pai Secret Album Saturn Tribute as DLC. This DLC is a fan disc that contains a gallery, a terminology dictionary, a quiz minigame, a chat minigame, interview videos and more. It will not be available to purchase as a separate download.
The special edition also includes physical bonuses, such as an explanatory book, drama CD, vocal collection CD, and a key chain that plays sound effects. All items will come in a box that features illustrations by series character designer Kenichi Sonada.
Full color and over 80 pages long, the explanatory book contains a series analysis as well as number of staff interviews. It will even include bonus artwork drawn by a variety of character designers from different bishoujo mahjong games.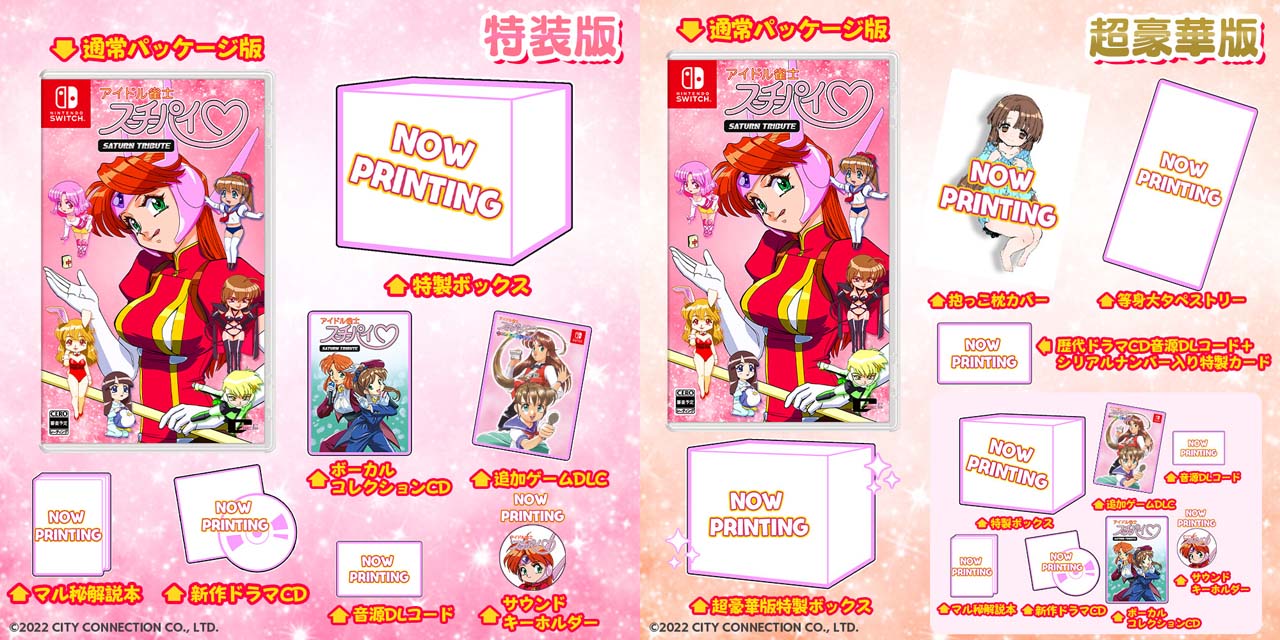 In addition to everything contained in the special edition, the super deluxe edition will also include a Miyuri body pillow cover designed by artist MALINO, a life size tapestry by Kenichi Sonada, and a series voice drama collection download code that comes on a special card that includes a serial number. The super deluxe edition will also have its own exclusive box design. Preorders for all versions, including the standard edition, will come with a bonus clear file.
The official site for Idol Janshi Suchie-Pai Saturn Tribute can be found here (Japanese only).