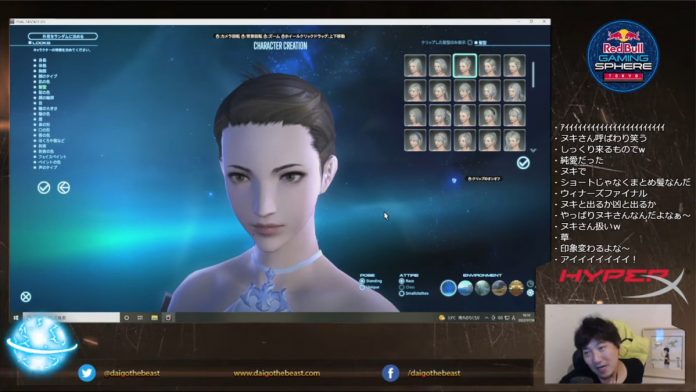 Written by. Nick Mosier based on the original Japanese article (original article's publication date: 2022-07-06 23:35 JST)


Pro gamer Daigo Umehara made a splash online when he started playing Square Enix's hit MMORPG Final Fantasy XIV. Daigo began broadcasting the game on the streaming service Mildom at around 5:00 p.m. on July 6 (JST) and has been playing between practice sessions for Street Fighter V. When other Warriors of Light heard that the fighting game legend had reached the realm of Eorzea, they flocked to the stream, with "ウメハラ" (Umehara) even trending on Twitter in Japan.
Daigo is known as Japan's first professional fighting game player. With his stoic style and skills honed through tons of practice, even those unfamiliar with the fighting game scene know who he is. He currently focuses mainly on Street Fighter V and often streams on Mildom which is a sponsor of his.
On episode 103 of Umehara Radio, Daigo explained that he had been curious about FFXIV for a while, but since the game is an MMORPG, which focuses on communication and always has a constant stream of content, he didn't think it would be for him since he doesn't have much time to play. However, after seeing on social media that the game had a proper and highly regarded story, he became interested and started the free trial.
Daigo was first sucked into the character creator worrying about all the details from which race to choose to what hairstyle and facial features he wanted. He ultimately settled on a Midlander female Archer, though many viewers expected him to pick Pugilist given his status as a pro fighting game player.


Daigo has been playing FFXIV at his own pace between his Street Fighter V practice sessions and radio broadcasts while asking viewers about the controls and how to progress. While he's been told that the early quests are mostly errand running, he seems to be enjoying that aspect. He could even be seen listening to the pleas of NPCs in his path to take on tons of quests.
Since Daigo streamed himself making his character, his character's name, and the World he's on, other players that look like viewers of his stream could be seen watching from a distance but not interfering with his questing. He also isn't paying much mind to comments recommending what he should do and is enjoying Eorzea as he pleases, even playing right up to the start of his radio program. He seems to be enjoying his time adventuring in the game.
Daigo has got the attention of Final Fantasy XIV's Warriors of Light. He's even been asking viewers about things in the game he's curious about between practicing Street Fighter V. We look forward to seeing what the fighting game legend does in the world of Eorzea. If you're interested, you can watch Diago's streams on Mildom. Logging in is required to see playback of his FFXIV stream.




© SQUARE ENIX CO., LTD. All Rights Reserved.