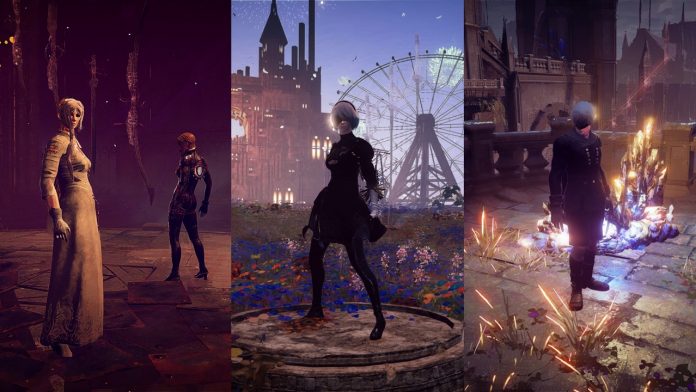 Square Enix revealed their future plans for Babylon's Fall via the game's sixth official livestream, including new information about the upcoming NieR: Automata collaboration event. The developers seem to recognize the widespread issues across multiple parts of the game and are trying to incorporate player feedback to make improvements. They also stated that there are no plans to scale back the game's development.

[Update 2022/03/19 15:15 JST]
The official English summary of the livestream is now available on Hanging Garden.



*Below is our recap of the Japanese broadcast that we originally wrote.


Steam free trial
-A free trial version will arrive on Steam on March 23. A portion of the upcoming NieR: Automata collaboration event will be playable with the trial version as well.

Serial code (gifts)
-Visit the Hanging Garden website and enter the code below to obtain 10 Platinum Ingots, 10 Gold Ingots, and 10 Silver Ingots (in-game items).
NA server: BF-110UPDATE-NA
EU server: BF-110UPDATE-EU
JP server: BF-110UPDATE-JP
Expiration date: April 16, 2022 (JST)

Update Ver.1.1.0 (March 22)
*Patch notes will go live on March 22
-New storyline "Resurgence" (part 1 of 2) and new area (Tower of Babylon: Blockade Zone).
-New faction "Molzamite" (along with new voice options).
-Character slots: 3 → 4.
-New weapon type: Great Axe
-Power cap increases from 150 to 200.
-Character level cap increases from 20 to 22.
-"Refine" feature will be added to the Forge (re-rolls one of the enchantments on your gear).
-New divine and legendary gears (100+ in total), along with new enchantments.
——————————
-New quest type: Gauntlet. High-difficulty content with unique modifiers. You can obtain the materials needed to refine your gear (you can obtain them in other quest types as well, but the drop rate is different)
-Skirmish: new quests will be added along with new infamous enemies.
-Siege: recommended Power will increase.
-Duel: a new Duel quest (Diodorus) will be added.
-Campaign: Enemies will be nerfed to make it easier to play solo. You'll be able to carry 10 potions instead of 5, when playing solo.
——————————
-Garaz Shop item lineup renewal.
-Conch Shop purchase limit changes from 3 to 5. The time interval after reaching the purchase limit shortens from 24 hours to 20 hours.
——————————
-Matchmaking: extends the cue time to a maximum of 300 seconds.
-Quick Match: limits the quest search range to +6 of your Power.
-Plans to revise the Enchantment table so that gears would have enchantments more suitable to each weapon type.
-Enchantment balance changes (including nerfs being made to over-powered enchantments).


Player Feedback Update scheduled in late March
-Campaign: The number of enemies and gimmicks will be reduced.
-Duels: Plans to fix a bug (attacks' flinch) that is preventing players from experiencing the intended difficulty.

Future Player Feedback Updates (TBD)
-Graphical adjustments.
-Option to toggle on/off other players' battle effects.
-Verse (Chapter) result screen adjustments.
-New target lock options.
-Making improvements to the visual effect of Relic (D) drops.
-You'll be able to assign keys to side buttons of a mouse (Steam version).
-Trading Post: Players will be able to see detailed information about each item before making a purchase.
-A new feature to display detailed information about active buffs on the screen.
-Weapon balance changes.

Feedback to be considered in the future
-Accessibility improvements.
-Trading Post and Forge: responsiveness and filtering option improvements.
-Dungeon gimmick adjustments (player feedback suggests that quests with a bunch of gimmicks are unpopular).
-They plan to address the lack of challenging end game content.
-Finding a workaround for an issue with Quick Matches where elements (elemental affinities) infused into players' weapons don't match with the quest.
-Emote improvements. Currently, it's hard to understand what each emote means when selecting them.
-Orders improvements. Currently, enemy names are hard to memorize. Finding their location can be a challenge as well.
——————————
-Home base: players want to change their character / quit the game straight from the home base, rather than having to go back to the title screen first.
-Campaign: players don't want to rewatch cutscenes / feel guilty watching cutscenes and making others wait.
-Skirmishes: Players are frustrated by party members leaving mid-match.
-Quest Board: players want to check their current Power while on the Quest Board.
-Enchantments: players find it hard to understand their effects at first glance.
-Players find it hard to keep track of the consecutive hit count while in battles.
-They might look into Gutworks as well (to address their lack of usage).
-PC optimizations.

Planned balance changes (Season 2 ~)
-Most players are currently using Bow or Sword. The development team plans to buff other weapon types to balance them out.
-Players are farming gears by repeating the Siege quest with a recommended Power of 70, understandably so since it's likely the most efficient way to Power up your character. However, the developers think the current situation is making the progression way too easy. They intend to fix it by rebalancing the quest's difficulty.
Additional note:
-There's no plan to scale back the game's development.

NieR: Automata collaboration event


-The limited-time event starts on March 29 at 2:30 a.m. (PDT) and ends on April 26 at 1:59 a.m. (PDT)
-New event quests will be added on April 12.
-A leaderboard event will be held during the collaboration period (top rankers will be rewarded with an exclusive Emblem).
-2B, 9S, and other NieR: Automata-themed cosmetic items will be sold along with a paid mission that rewards you with an Emil Coffin Case.
-Enemies in the event quests will drop NieR: Automata-themed weapons.