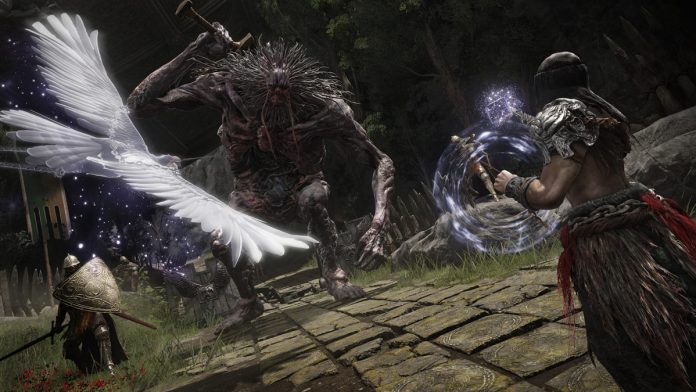 Written by. Ryuki Ishii based on the original Japanese article (original article's publication date: 2022-02-21 22:09 JST)

There was some confusion in Japan regarding Elden Ring's streaming guidelines. And FromSoftware made an official statement saying their support team gave an incorrect answer to some of their users who had inquired about uploading of videos and screenshots, which led to a misunderstanding that all posting and streaming of their games are prohibited.
On February 21 (JST), a Twitter user shared a reply they received from the company that states all recording and streaming of their games for purposes other than personal enjoyment are prohibited. The user's question was whether they can livestream Elden Ring or not.
This tweet caught the attention of many gamers, and "Elden Ring streaming not allowed" (エルデンリング配信禁止) went trending on Twitter, causing heated debate about how to interpret the company's reply, and whether or not streamers should ask the company for permission in the first place. In response to this confusion, FromSoftware has made an official statement to clear things up.
Here's what is actually written on the company's official support page:
Q. Can I upload gameplay videos and screenshots from FromSoftware games on a video sharing website, social networking site, blog, etc.?

A. Other than for personal use, we don't permit the uploading of videos and screenshots that show any portions of our games due to copyright issues. This does not apply to videos and screenshots uploaded through sharing functionality provided on gaming consoles (PS4, Xbox One, etc.). However, any commercial use of such videos and screenshots is not allowed. (e.g. showing at a restaurant or a shop, or any events that require admission fee, broadcasting on the internet, etc.)

[Please note]
-Broadcasting functionality, etc. on PlayStationR4 is native to the game console, and so is acceptable for non-commercial use.
-Broadcasting using functionality native to the Steam client is acceptable for non-commercial use.
-We respect the customer's judgement in regard to the type of content and where it is published, but in the event that you publish content, we ask that you please do so in moderation.
-The company accepts no liability in the case of any damage incurred by the content publisher or third parties involved.
-While permission is given for non-commercial use, we do not prohibit standard advertising models in place on the content publishing platform (e.g. YouTube bumper ads, overlay ads, display ads, etc.).
-Even in the case of permitted distribution methods given above for published/uploaded content, we reserve the right, at our discretion, to remove content that goes against public policy or features gameplay videos of unreleased titles, etc. (We will not respond to individual inquiries regarding evaluation criteria.)
The company also stated that they have been working on revising the guidelines. Famitsu reached out to FromSoftware regarding this matter and received a reply saying, "we'll update the guidelines before the release of Elden Ring," which is only a few days away. After the update, they plan to allow the use of capture boards and video editing software as well, as long as they're in line with the guidelines.
Elden Ring is set to launch on February 25 for PlayStation 4, PlayStation 5, Xbox One, Xbox Series X|S, and PC (Steam).




[Update 2022/02/22 19:03 JST]
FromSoftware has updated its Japanese guidelines for posting videos and screenshots, just in time for the release of Elden Ring, which is set to launch on February 25. The latest Japanese guidelines specifically mention that these are intended for individual customers residing in Japan. And only for games that FromSoftware themselves own the rights, meaning the guidelines do not cover titles like Bloodborne and Demon's Souls. The English guidelines remain the same as of this writing.
Individual users in Japan can use the consoles or Steam client's share functions, capture boards, and video editing software to make content and upload them to content publishing platforms, social media, or personal websites. Monetizing through standard advertising models provided by each platform is allowed, but monetization models where money transfers occur directly between viewers and content creators (e.g. Super Chat) are not. Using videos as "paid subscribers only" content is also prohibited. The guidelines also ask users to be mindful of spoilers, among other precautions.