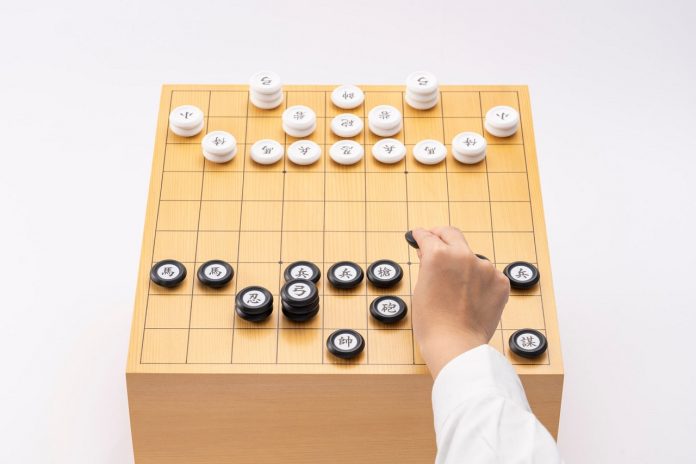 Gungi (軍儀), a fictional board game depicted in the popular manga/anime series Hunter x Hunter, is being recreated as an actual board game by Universal Music. Pre-orders are now available in Japan on their official website. A Universal Music Store account is required.
The Gungi board game was used in the Chimera Ant arc of Yoshihiro Togashi's Hunter x Hunter series. It's a two-player board game invented in the Republic of East Gortea and it plays an important role in the character development of Meruem and Komugi, the key characters in the story arc.
Although the basic premise of Gungi was explained in the manga/anime, concrete details were not. To recreate the game as an actual product, Universal Music formed a special team to come up with a rule set based on what was said in the Hunter x Hunter series.
Gungi uses 25 pieces for each player and a 9×9 grid gameboard with the aim of checkmating your opponent's King piece. Players can freely place the pieces on their side of the board at the start of a match and choose to keep some pieces off the board to be used later.
The biggest difference between Gungi and similar board games such as Chess or Shogi (Japanese Chess) is that pieces can be stacked on top of each other. Players can make stacks of up to three pieces, and stacked pieces are harder to take since players can only take the opponent's pieces if their stack number is the same or less. Additionally, each piece's moveset changes depending on the number of stacks, enabling them to expand their movement range. This stacking system is what makes Gungi unique, providing strategic depth.
Understanding the whole ruleset sounds quite difficult, but Universal Music came up with four sets of rules so that players of all skill levels can enjoy the game. Beginners can start with the easiest ruleset to get a grasp of the basic rules and gradually increase the complexity by moving on to the elementary, intermediate, and advanced rulesets.
Gungi is now available for pre-order as a limited, made-to-order product. The standard edition, priced at 4840 yen (around $43), comes with 50 Gungi pieces, a board sheet, two rest sheets for pieces, and a rulebook. There's also a high-end edition available for 48,400 yen (around $420) that includes a board, piece holders, and piece cases like those used in Shogi to provide a more authentic experience.
The official product page can be found here.