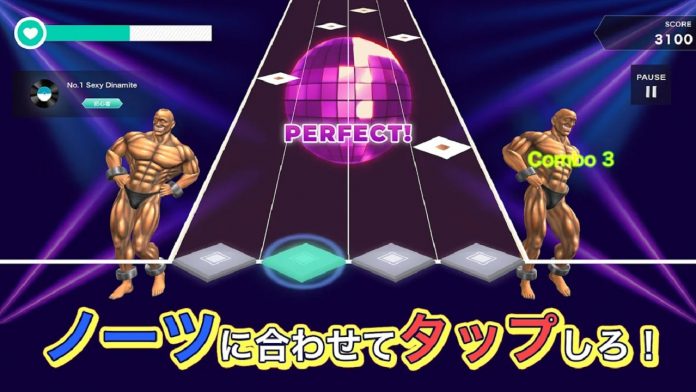 Japanese web development company LIG has released Dancing of Cho Aniki (ダンシング・オブ・超兄貴) on iOS and Android in Japan as a free-to-play title. It's a casual rhythm game based on the Cho Aniki shoot 'em up series. Players can play music tracks from the series, such as Sexy Dinamite and Doitsu Jin German (Deutsch German), as well as other tracks provided by various companies and composers.
Dancing of Cho Aniki is a simple rhythm game with four lanes where players try to hit the notes in time with the music. Iconic characters from the series, such as Samson, Adon, Idaten, Benten, and Uminin, will dance along with the track. They're 3D modeled for the first time, and their movement intensifies as the track gets more complex. You can customize their appearance using cosmetic items obtained from in-game gacha.
The first Cho Aniki game was released in 1992 for the PC Engine system and went on to become a long-running series with a cult following. The series is known for featuring muscular characters, absurd humor, and some highly rated soundtracks. The soundtrack for the first game, composed by Koji Hayama, is especially well-received among fans. With a rich lineup of music tracks available from the series, it makes sense that the developer decided to create a rhythm game out of it.
Dancing of Cho Aniki is now available on iOS and Android in Japan. The official website can be found here. The developer LIG notes that they are open to collaboration with other IPs.