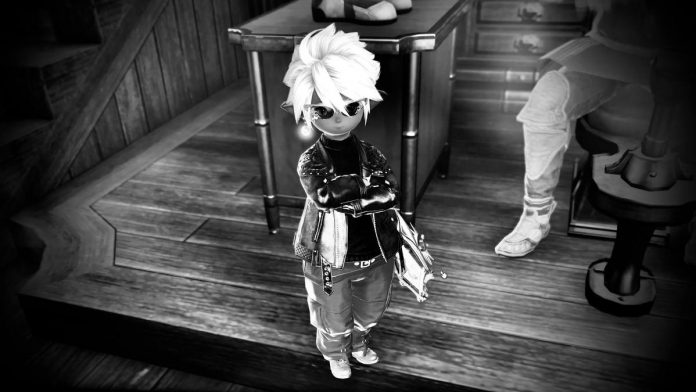 Written by. Nick Mosier based on the original Japanese article (original article's publication date: 2022-01-25 14:15 JST)

Final Fantasy creator Hironobu Sakaguchi has launched his own unofficial brand within Final Fantasy XIV (FFXIV) called "sakaGUCCI." Sakaguchi first listed Stuffed Chocobo items on the game's Market Board and now handles transactions of his limited-time goods directly through the game's party system to counter reselling. The latest sakaGUCCI line, a coordinated harem pants set, is planned to go on sale on January 26, 12:00 a.m. JST.

Sakaguchi reportedly began playing FFXIV in preparation for a conversation with FFXIV producer and director Naoki Yoshida, held on October 2, 2021, as part of Tokyo Game Show 2021. He then proceeded to make waves by tearing through the game's main story at an incredible rate (related article).
After clearing the main story of the latest expansion Endwalker, Sakaguchi set his sights on leveling his crafting skills. After becoming a level 90 Culinarian, Sakaguchi crafted a Pumpkin Potage and listed it on the Market Board. The dish received a lot of attention as it was hand crafted by the father of Final Fantasy himself. Then came the worry about reselling and others posting fakes under Sakaguchi's name.
Crafted items in FFXIV retain the name of the player that crafted it, and two characters can't share the same name within the same World. That means within Sakaguchi's World of Anima, his character Hironobu Sakaguchi is the one and only. But that doesn't mean items on the Anima Market Board listed under Hironobu Sakaguchi were necessarily made by him. That's because if a character with the same name in another World hands over an item to a character on Anima, there's no way to differentiate between the two, creating a counterfeit brand.
Plus, for items that can stack like the previously mentioned Pumpkin Potage, if you stack the same item with Sakaguchi's, you can increase the number of items bearing the Hironobu Sakaguchi name. This method requires no special tools, and anyone can do it.
But it's uncertain if Sakaguchi has come across any of these issues. It's possible that someone made him aware of the potential problems that could arise when he sold the Pumpkin Potage. As for the items he's sold since then, he's been thinking about the possibility of resellers and characters with the same name and has been experimenting with better ways to sell items.

The first line of sakaGUCCI apparel, a winter sweater, saw 10 items crafted, with 7 being sold through the Party Finder, and 3 being sold to acquaintances of Sakaguchi. The following releases were also limited in quantity and very rare. The items were sold by adding a tip to the cost of materials and come with a strong request to not resell the items.
Sakaguchi also has a rule where the buyer must glamour the item they've purchased, which binds it to the player so that it can't be traded or listed on the Market Board. After that, Sakaguchi takes you on a little tour of some hunts in the game. Not only do you get to wear and make some memories in your hand-made and glamoured gear, but it also serves to prevent reselling, killing two birds with one stone.

Another example of a name adding value to an item is when TERU, vocalist of the rock band GLAY, posted an item engraved with their name on the Market Board. But characters with similar names selling fakes and the items being resold for high prices became a problem. More than a few people heard Sakaguchi was selling items and had concerns considering the earlier situation with TERU. The reason sakaGUCCI's measures against reselling and fakes is so thorough might even be because of the TERU situation.
sakaGUCCI is a new experiment to give back to fans. As for Sakaguchi's future plans, he seems to be considering a way to distribute the gil he's earned with sakaGUCCI within the game.





© 2010 – 2022 SQUARE ENIX CO., LTD. All Rights Reserved.