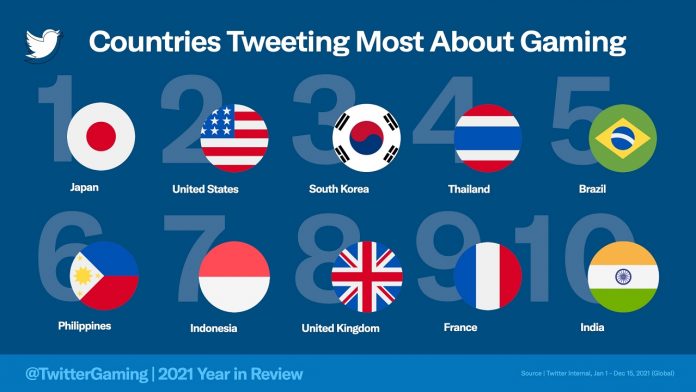 Twitter has released statistics about video game-related tweets from 2021. According to Twitter, there were "more than 2.4 billion Tweets about gaming, up 14% year over year and a more than 10x increase from 2017." And Japan remained number one on the "Countries Tweeting the Most About Gaming" list, followed by the United States and South Korea. Japan was at the top of the list in 2020 as well.

1. Japan
2. United States
3. South Korea
4. Thailand
5. Brazil
6. Philippines
7. Indonesia
8. United Kingdom
9. France
10. India
The list of "Most Talked About Video Games" is as follows.

1. Genshin Impact
2. Apex Legends
3. Ensemble Stars!
4. Final Fantasy
5. Fate/Grand Order
6. Animal Crossing: New Horizons
7. Knives Out
8. Minecraft
9. Project Sekai
10. Fortnite
The lineup makes sense since both Genshin Impact and Apex Legends are hugely popular in Japan. Japanese games such as Ensemble Stars!, Fate/Grand Order, and Project Sekai made it onto the top 10 as well, along with the Final Fantasy series and Animal Crossing: New Horizons. NetEase Games' battle royale game Knives Out, is also popular in Japan.
What surprised us the most was the list of "Most Talked About Gaming Creators." Colon, a Japanese content creator with 1.16 million YouTube subscribers, is at the top of the ranking. Junichi Kato, who has garnered popularity over the past two years and was subject to multiple controversies in 2021 due to his discriminatory remarks about race, gender, and persons with disabilities, made it to the top 10.

1. Colon
2. AuronPlay
3. Felipe Neto
4. Ibai Llanos
5. Dream
6. GeorgeNotFound
7. Corpse Husband
8. Sapnap
9. BadBoyHalo
10. Junichi Kato

You can check out the rest of Twitter's statistics here.