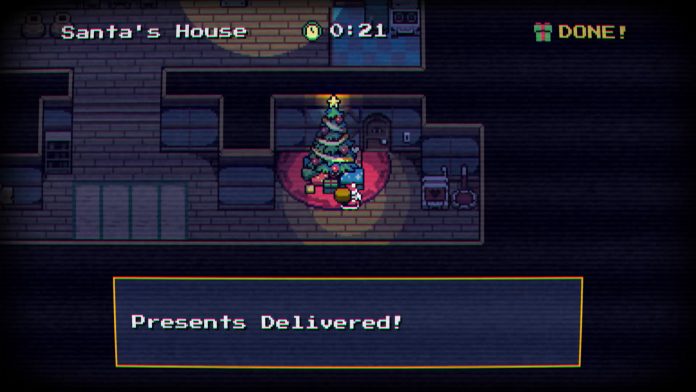 Nicalis released Cave Story's Secret Santa for free as a limited-time offer. It's a Cave Story spin-off game developed by Nicalis in cooperation with Studio Pixel, and it is currently available on PC (via Steam, Epic Games Store, and GOG.com). The game supports both English and Japanese.
According to the store description, Cave Story's Secret Santa is "a bite-sized side story of stealth and puzzle solving, with familiar characters and settings from Studio Pixel's classic adventure." And as the title suggests, you'll play as a "cowardly Mimiga named Santa" that must sneak into homes and return the once stolen Christmas presents.
You must enter each house from a chimney, get to the Christmas tree, and return the package. Avoid getting detected by patrolling Gaudi, push and pull obstacles, watch out for hazards, and try not to make noises that might attract attention. There are cookies inside the houses that Santa can collect as a bonus item. The game features 20 homes across three familiar zones, hidden passageways, secret surprises, and 10 different achievements.
While Nicalis states that you can only download the game "for a limited time," an offer expiration date has not been provided.
The original Cave Story was developed by Studio Pixel and came out in 2004 as a free 2D action game. It is currently considered one of the most popular free games in Japan. Nicalis, the main developer of Cave Story's Secret Santa, is the publisher that handled the publishing of Cave Story+.