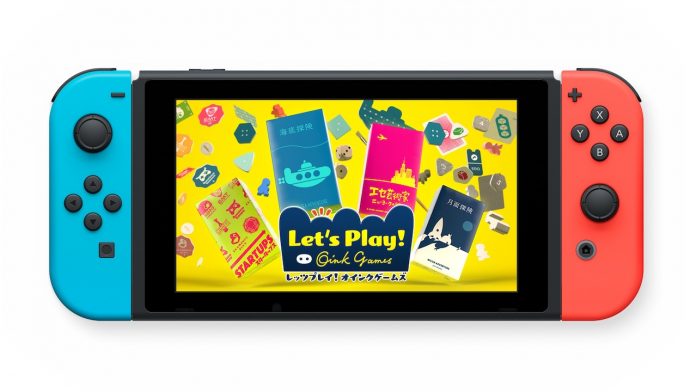 Publication date of the original Japanese article: 2021-11-05 19:19 (JST)
Translated by. Ryuki Ishii

Developer Oink Games announced on November 5 that the title of their new game will be Let's Play! Oink Games, and it will come out by the end of 2021 for Nintendo Switch.
Oink Games launched a Kickstarter campaign in May of this year and managed to successfully raise around 6.5 million yen (approx. $57,600) from 1690 backers. The project was called Oink Games+ at the time, but now the official title has been revealed.
Oink Games is known for titles such as Tiger Trio's Tasty Travels and Takeshi and Hiroshi, as well as a number of physical board and card games.
Let's Play! Oink Games lets you play Oink Games' physical board games on the Nintendo Switch. According to their official website, the motivation behind the game's development is to provide a way to "play board games online even if we couldn't meet in person," amidst the COVID-19 pandemic.
Three board games are confirmed to be included: Deep Sea Adventure, Startups, and Moon Adventure. Deep Sea Adventure is a hit title that has sold over 200,000 copies worldwide. In this game, "A group of explorers gather in a single submarine and seek the treasures that await at the bottom of the sea."
Startups is another highly acclaimed title from Oink Games. Each player takes on the role of an investor trying to become the biggest shareholder of promising startup companies by wisely managing their cards.
Moon Adventure is a cooperative board game where a group of astronauts are trapped on the moon trying to recover supplies while managing the team's shared oxygen cards.
Four game modes will be available: Single player, Share a Switch, Online play, and Local play. Single player mode lets you play against the AI, and Share a Switch mode lets you play together with friends on a single screen. Online play and Local play are self-explanatory. However, each game supports different game modes. For example, Startups cannot be played in Share a Switch mode.
Let's Play! Oink Games will be released for Nintendo Switch in 2021, followed by a smartphone release.