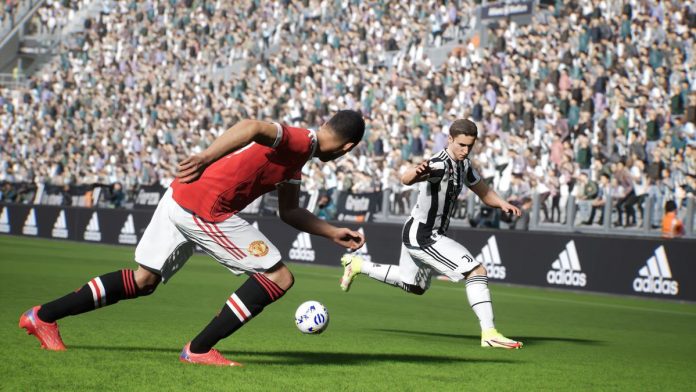 Publication date of the original Japanese article: 2021-11-05 15:09 (JST)
Translated by. Ryuki Ishii

Konami has announced that their free-to-play soccer game eFootball 2022's v1.0.0 update is being delayed until Spring 2022. It was initially scheduled to release on November 11 to introduce a new game mode and support mobile devices.
They also announced the cancellation of eFootball 2022 Premium Player Pack, "which includes items that can only be used in-game after the v1.0.0 update." Pre-orders will be canceled and "Full refunds will be made according to each platform policy."

[UPDATE 2021/11/05 16:14 JST] Amended the headline (from "2020" to "2022").
"We have been working diligently towards distributing an update that will bring new content to the game, including a new mode where you can strengthen and play with an original team, as well as support for mobile devices on November 11, 2021. Unfortunately, we have concluded that more time is needed to deliver the product in the quality that will meet the expectations of our users and have decided to postpone the delivery."
For those of you who have pre-ordered the Premium Player Pack, you'll need to re-download the game after the cancellation (except for the Steam version). "Please note this should not affect existing play data as long as you are using the same account." You can check out the full statement from here.
While v1.0.0 has been delayed, Konami did release v0.9.1 on November 5 to fix numerous bugs. Patch notes for each platform are listed separately and can be found on their website.


eFootball 2022 was released on September 30, as a rebranded version of Konami's popular Pro Evolution Soccer series. It is currently available for PC, PS5, PS4, Xbox Series X|S, and Xbox One. The game will also be available on iOS and Android, with cross-play between all platforms.
However, eFootball 2022 is struggling to become the new era of soccer game Konami is aiming for. The Steam version amassed over 22,000 user reviews with an "Overwhelmingly Negative" rating (Positive rate of only 11%). Many users pointed out the lack of polish and the amount of bugs, some of which should be fixed with the latest v0.9.1 update.
Ever since its turbulent launch, eFootball 2022 has been in a questionable state, with one delay after another. I wonder if the game will be able to win back players' trust with future updates.
eFootball 2022 is currently available for PC, PS5, PS4, Xbox Series X|S, and Xbox One as a Free-to-Play title. v1.0.0 is scheduled to come out in Spring 2022.