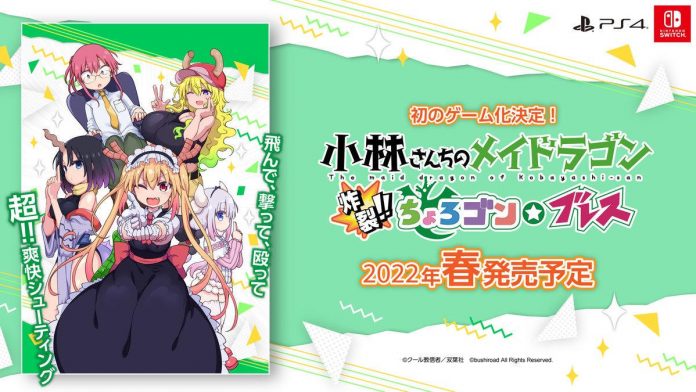 Publication date of the original Japanese article: 2021-09-23 01:48 (JST)
Translated by. Ryuki Ishii

Bushiroad has announced that the Japanese manga/anime series Miss Kobayashi's Dragon Maid is getting a videogame adaptation. The game is scheduled to release in Spring 2022 for PlayStation 4 and Nintendo Switch. It will come out in both English and Japanese. A teaser site has also opened alongside the announcement. The official English title has not been announced yet.
[UPDATE 2021/09/23 2:54 JST] Fixed a typo in the first paragraph.
Miss Kobayashi's Dragon Maid is a slice of life comedy series. The story centers around an office lady Kobayashi and a dragon named Tohru who can transform herself into a human. The original manga written/illustrated by Coolkyousinnjya, has been serialized since 2013. The second season of the TV anime series produced by Kyoto Animation is airing since July 2021 in Japan.
According to the teaser site, the videogame adaptation will be an "exhilarating" shooter in which the players will "Fly, shoot, and punch." It will be a single-player game, but not much else has been revealed. The key visuals illustrated by Coolkyousinnjya show Kobayashi, Tohru, and the three dragons Kanna, Elma, and Lucoa, so I would imagine they will appear in the game.
The press release also mentions that the game is being developed by KAMINARI GAMES. The company was established in 2018 by former staff of the parent company MOSS. In recent years, MOSS has worked on a few shoot 'em up games such as Raiden V: Director's Cut and Caladrius Blaze.
The videogame adaptation of Miss Kobayashi's Dragon Maid is scheduled to launch in Spring 2022 for PS4/Nintendo Switch. Further information will be posted by the game's official Twitter account (@maidragon_game)