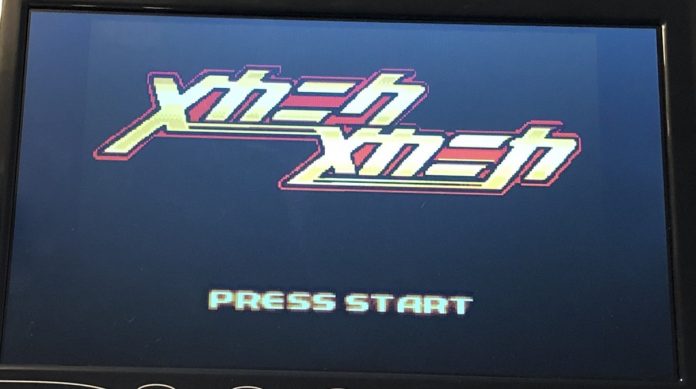 Publication date of the original Japanese article: 2021-07-27 17:02 (JST)
Translated by. Nick Mosier

Game collector Jironosuke tweeted on July 27 that they are seeking information about a GBA development cartridge for a game titled Mechanic Mechanica. The title screen for Mechanic Mechanica doesn't list a developer or a release date so it's currently unknown when or who made the game.
Jironosuke has also tweeted about the contents of the game and those that have seen the tweets have been giving their best guesses as to what the game could be.


According to Jironosuke, Mechanic Mechanica is a 2D action game where you customize your own robot and battle. If you look at the attached screenshots, there seems to be a high level of customization available. Players are able to customize parts for the head, arms, torso, and two available weapons slots, as well as fine-tune their robot's color scheme with RGB settings.
The characters in the game have designs that would be right at home in a children's anime and the text is written in hiragana (a phonetic lettering system in Japanese) so it seems like younger kids were the target audience. There are probably more than a few people out there that are thinking this sounds like Custom Robo, the action RPG series that made its debut in 1999.
The Custom Robo series has players customize their own robots and battle them against other robots. Like Mechanic Mechanica, the main feature is customization where players get to freely choose their robot's body, gun, bomb, pod, and legs.
Mechanic Mechanica shares a lot of aspects with the Japan-exclusive Custom Robo GX for the Game Boy Advance. The first two titles in the series, Custom Robo and Custom Robo V2 for the Nintendo 64 were in 3D, but the Game Boy Advance's Custom Robo GX was a 2D action game. Due to the similarities between the graphics and the shared hardware, people were theorizing that Mechanic Mechanica was an early version of Custom Robo GX under Jironosuke's tweets.
However, Custom Robo series director Koji Kenjo put that theory to rest by saying, "It's a completely different title from a different company. This is my first time seeing this." And with that, the search for where Mechanic Mechanica came from was back to square one.


Mechanic Mechanica still remains a mystery. Even the previous owner who had listed the auction for the cartridge said they know nothing about it, so we don't even know where it came from. Maybe we'll learn more as the tweet thread about the game spreads or after Jironosuke makes more progress through the game.