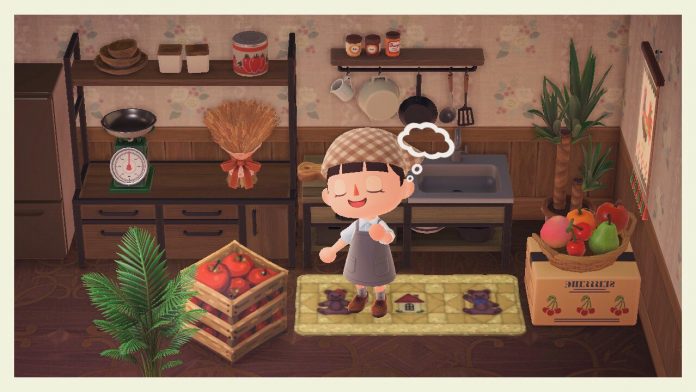 Publication date of the original Japanese article: 2021-04-09 11:31 (JST)
Translated by. Ari Clark

The custom design artists of Animal Crossing: New Horizons have all gone crazy for cubes. It all began with an innovative work released in March 2021 by Japanese creator Maya (see related article). By using the custom umbrella design that was added in the Ver.1.9.0 free update, she artfully created an optical illusion that made it look just like a little cubical pet house had been set up inside her house.
Her idea for using the umbrella as a hexagonal canvas caused an overnight sensation in the custom design world, and produced an explosion of follow-the-leader works. Even well into the month of April, there's no sign of when the fever might start to cool, and the continually-evolving designs seem to be establishing a whole new genre of "umbrella illusions".
One of the directions in which we've seen these umbrella illusions developing involves refinements that don't just stick to the cubical format, but go beyond it in surprising ways. To put it another way, some artists are showing off their skills by devising ways to work with the basic cube-shape to make it look both convex and concave.
One good example is an extremely funny design invented by Japanese creator Chikuwa. In late March, Chikuwa recreated the storage shed featured in a memetic series of commercials for a well-known Japanese storage shed company, which boast about the sturdiness of their products by declaring, "You can seat 100 people on (our sheds), no problem!" In its hilarious reenactment of the famous commercial, it adds details that go way beyond a basic cube, combining a convex-looking crowd of tiny people sitting on top of the box with a concave-looking storage shed interior with a car parked inside.
Another umbrella design released in the same month featured the surprising and daring twist of making the bottom half of the design look like an empty space. This unique work achieved a remarkable sense of depth by calculating the distortions necessary to create the seamless illusion of a little boy hiding under a desk.


There's one type of item that AC:NH players can't get enough of, and that's anything that gives their islands a genuine lived-in feeling. From pot hangers to dish drying racks to coffee mugs, there are loads and loads of items that make it feel like you're right there with the villagers who live on your island. This kind of cozy, everyday décor is super appealing to islanders who like to simulate an alternate life on their ideal island.
And some of the designs that most skillfully evoke that lived-in feeling are those of Japanese designer Kayana. A pile of clothes, neatly folded and stacked up. A basket of linens, sitting humbly in the laundry room. Although they all keep to the cube format, they also use subtle concave and convex effects to achieve a soothing, homey effect. As interior décor, they fit right in with even the most pleasantly informal, organic room design. By changing the style of the stacked-up clothes a little, they could be used in other situations, too, such as a cutting-edge designer clothes shop.


Designers from outside Japan have refused to be outdone, too. For example, one user has been posting blocks from Minecraft. Although they use the cube trick as a bit of a shortcut, their degree of realism has attracted a lot of praise. Sure, it wouldn't be inaccurate to say that they're just boxes, but if you look closely, you can see that the pixelated texture is meticulously drawn. It's a degree of faithful reproduction that shows a lot of love for the original game.
Speaking of detailed reproductions, another user posted an absolutely breathtaking tribute to The Legend of Zelda: Breath of the Wild. Their treasure chest design looks like it was taken straight from the original game. The luminescent effect, and the way the pixel art is drawn to make the box seem weathered by the seasons, make your deserted island feel like it's been suddenly transformed into a Shrine. At this point, with the way this flourishing fad is pushing the envelope, it's starting to feel like you can make any cubical object you want by using a custom umbrella design.


The umbrella illusion genre began with a single work by a solitary artist, and has grown into an explosive ongoing trend. Still, it's worth pointing out that this is only one example of the sheer energy of this incredibly active fan community. We can't wait to see what quirky and wonderful designs they'll present us with next.